19 January 2006 Edition
McDowell doublespeak on ID cards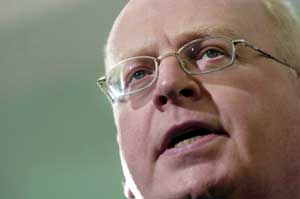 Once again, Justice Minister Michael McDowell stands exposed for rank hypocrisy and double speak, this time in relation to the issue of compulsory identity cards.
In 2003 McDowell condemned British plans for compulsory ID cards, comparing it to apartheid South Africa. But three years later he has failed to oppose the introduction of such cards in the Six Counties and is now threatening to introduce them in the 26 Counties.
Sinn Féin's Caoimhghín Ó Caoláin TD slammed plans by the British government to impose compulsory identity cards in the Six Counties and for the Dublin Government to follow suit. "Unbelievably, McDowell has said that if the British introduce this card, the Irish Government will bring in a similar card. Given the common travel area, the information on any 26-County data base would end up being shared with the British authorities.
"The British must be told that it is totally unacceptable for their state to impose these cards in any part of Ireland. Given the record of British state forces in passing information to loyalist murder gangs we can only imagine how they would misuse such a massive data base on all residents not only in the Six Counties but throughout Ireland."
In 2003 McDowell slammed ID card plans saying that the Irish public would not be forced to have or carry identity cards even if the measure was introduced in Britain. At the time he pointed out that it would give gardaí the right to stop anyone, force citizens to identify themselves and make them a criminal if they were not carrying an identification card and that this would alter the relationship between the police and the public.
He went on to point out that there was a real danger that such law could be used selectively against minorities and marginalised people, much as it was used against blacks and coloured people in South Africa during the apartheid regime.
"It would alter the current balance between the interests of the State and the rights of the individual to go about their lawful business without being challenged as to who they are", he said.
And he went on:"The fundamental philosophy is you are not obliged to account for yourself or to carry anything to identify you.
"After 800 years of common law in Ireland it's something that would require huge reflection and very cogent reasons to change," he said.
He also said at the time that he had not been consulted about the plans by the British government and he did not believe Ireland would have to adopt identity cards if Britain did.