10 November 2005 Edition
The EU Parliament this month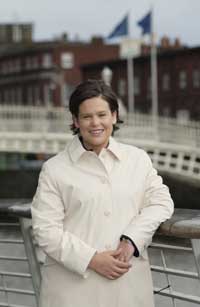 Meeting Charlie - BY EOIN 0 BROIN
It's not something you can say very often, but last week I had the unusual pleasure of meeting with EU Internal Market Commissioner Charlie McCreevey. Mary Lou McDonald MEP was meeting to discuss Irish Ferries and the Services Directive, and at the last minute I was seconded to sit, smile and take notes.
Friendly to a fault, Charlie McCreevey was personable to the point that the meeting had more of a bar room atmosphere than that of a meeting with one of the Brussels' top Eurocrats.
Despite the rather turgid subject matter of the meeting, and the tendency for policy debates in the EU to be framed in language designed to obscure rather than enlighten, the conversation between Mary Lou and Charlie was frank, plain and to the point. 'What you see is what you get' was his constant refrain, whether he was addressing the issue of his controversial remarks on the Swedish Social Model — and his unambiguous defence of these remarks to MEPs in Strasbourg the same day — his support for the controversial Services Directive or his belief that RyanAir provides a model of how a successful economy should be run.
His private position on all these matters was no different from his public one, and why should it be. A committed neo-liberal, a firm believer in privatisation, and a man with a public soft spot for Michael O'Leary — 'sure wasn't I at his wedding' — McCreevey makes no bones about his prescription for the economic ills of the European economy.
Rigid labour markets, restrictive trading practices, outdated pension and welfare systems and an inability to 'open your minds to new ideas' are the obstacles to be overcome in his rough guide philosophy to macro economic policy.
Would he support a new Ferries' Directive to protect workers such as those made redundant by Irish Ferries, asked Mary Lou? A clear no was the answer, as it wasn't part of his internal market brief. What were his plans for the Services Directive, the Dublin MEP queried? To let the parliament have its say and then return to Council. 'Whatever the outcome' opined Charlie, 'something will have to be done about the market in services'.
His clear and unassailable belief in the ability of free-market economics to produce economic growth and social wellbeing was unaltered by the continued existence of more than 70-million people at risk of poverty within the EU or the 20 million officially unemployed, according to the EU's own figures. Indeed, if anything, these were symptoms of old-style European economies failing to get to grips with the realities of globalisation. The solution? The creation of a RyanAir Europe, in which labour standards, welfare and environmental protections, social equality and cohesion are all relegated to optional aspirations when set against the harsh economic realities of global competition, particularly from the US, India and China. Indeed such a model should be considered liberating — in the same way, argued Charlie, that RyanAir liberated people through the provision of low-cost air travel!
The social, economic and human costs of such an economic strategy are, of course, ignored as Commissioner McCreevey pleaded, for the third time, for Mary Lou and myself to open our minds to new ideas and new ways of thinking about economic policy. The fact that untrammelled, free market neo-liberalism is neither a new nor particularly successful economic philosophy was beside the point.
In the end, the meeting concluded as it had begun, like old friends parting company in Charlie's local pub in Kildare. His door was always open to Mary Lou so come and see her any time, was his parting shot. However, the possibility of the door being open to Europe's impoverished and unemployed communities not to mention all those other sections of society who have yet to benefit from the RyanAir model of economic growth is another question. One which will have to wait for another time to be answered.
What's happening to Social Europe?
The European Anti-Poverty Network (EAPN) has sent a letter to the EU Heads of State and Government and to Commission President Barroso, expressing its concerns that having announced an informal summit on the European Social Model, the focus on Social Europe is now getting lost. "If this is the case, this is likely to have the impact of further alienating people concerned about Social Europe from the European Project," states Fintan Farrell, Director of EAPN.
"Social concerns are too often considered as antagonistic to economic constraints and ambitions, or are given too low a level of priority, in line with the assumption that economic challenges are to be addressed first, allowing social cohesion to derive from growth and competitiveness. This neo-liberal vision is an inaccurate vision of reality, as well as a dangerous approach in the current context of lack of confidence and enthusiasm by EU residents in the EU project. It carries the risk of developing economic growth at the expense of poverty, social exclusion and inequalities, and it does not guarantee economic efficiency", reads the EAPN letter.
According to EAPN, if there is no one model likely to apply to all of the EU Member States, the evolution of our societies should in no way be influenced by a short-term business-related vision, and depart from common values compounded over the years, that define the specificity of our vision of society. These values include respect for human dignity, justice and solidarity, equal access for all to fundamental rights, parliamentary and participatory democracy, allowing the participation of all to the building of society.
"A Social Europe needs a strong commitment by decision-makers at European level, and the political will to implement a balanced Lisbon agenda as well as a strengthened Social Protection and Social Inclusion Open Method of Coordination," states Fintan Farrell. EAPN also urges EU Governments to contribute to developing a vision for a Social Europe in which economic and social policies would be placed on an equal footing, at all levels of governance all over the EU 25.
MEP's Diary....
Mary Lou McDonald
As always this session was a busy one. Parliamentary business ranged over a number of key policy areas including the first reading of the European Union Budget for the coming year.
Monday saw debates on a number of important initiatives dealing with issues such as enhancing the EU wide provision and standards for life-long learning, EU funded youth programmes, and programmes for promoting and celebrating European cultural diversity. Both Bairbre de Brún and I were happy to support the proposals as brought before parliament.
Tuesday was more controversial with some valuable environmental reports dealing with greenhouse gases and sea pollution coming before MEPs, and some less than sensible proposals on enhancing the powers of EUROPOL.
However, the focus of the week was strictly economic, with the debates on the budget, Charlie McCreevey's response to the parliament on the Scandinavian social model debacle, and Tony Blair's address as EU President on the informal Council summit held in England the following weekend.
The budget debate was, by and large, a re-run of last year's discussion. Those of us on the progressive end of the parliament criticised the proposals for focusing too much on competitiveness and growth at the expense of environmental protection, social protection and solidarity. With more than 70-million people living at risk from poverty and over 20-million unemployed there is clearly a case for a change of economic strategy. However, like last year, the parliament in it's wisdom stuck with what can only be described at the neo-liberal consensus which runs through both the Commission and the Parliament.
Speaking of neo-liberals, I also had occasion to meet with EU Commissioner for the Internal Market Charlie McCreevey. The meeting was primarily to raise the issue of Irish Ferries and seek his support for a Ferries Directive which would provide greater protection for workers against social dumping. We also had an interesting conversation, to say the least, on the controversial Services Directive, and his economic view of the world more generally. Needless to say there was little meeting of minds, and what was clear at the conclusion was that neither the former employees of Irish Ferries, or indeed workers across the EU could feel any safer from the devastating consequences of neo-liberal market economics with Charlie McCreevey at the helm.
Bairbre and I also held a number of useful outreach meetings with French MEP Bernard Poignant and Basque MEP Josu Ortuondo, to discuss a number of issues including recent developments in the Irish Peace Process. As always these meetings were the first in an ongoing process of raising Irish republican concerns at the heart of the EU.
Disparity in social protection exposed
According to a new report published by Eurostat, the Statistical Office of the European Communities, on average in the EU social protection expenditure accounted for 27.7% of GDP in 2002, compared to 27.3% in 2001. The proportion was highest in Sweden (32.5%), France (30.6%), Germany (30.5%) and Denmark (30.0%), while Estonia and Latvia (both 14.3% in 2001), Lithuania (15.2% in 2001) and Ireland (16.0%) recorded the lowest ratios.
These differences reflect differences in living standards, but are also indicative of the diversity of national social protection systems and of the demographic, economic, social and institutional structures specific to each country.
Pensions are the major part of social protection benefits in all member states except Ireland (48% of social benefits on average in the EU in 2001). The share of pensions was highest in Poland (65% in 2001), Latvia (62% in 2002) and Italy (60% in 2002).
Strasbourg In Brief
EU Budget
The European Parliament agreed a large number of amendments to the first reading of the EU Budget for 2006. During a two-hour voting session MEPs voted on almost 1,000 amendments.
However, despite some valuable amendments being passed, the overall shape of the budget remained skewed in the interests of neo-liberal economic policy. Additional monies were agreed for developing a Common Security and Foreign Policy and EUROPOL.
Blair addresses Parliament
British Prime Minister and President of the European Council Tony Blair addressed the European Parliament in Strasbourg this month to outline how he intends to break the deadlock between EU leaders over the future of economic policy.
In a brief and less than inspired address Blair outlined an agenda which focused on competitiveness, flexible labour markets, research and development and responding to globalisation.
The speech was notable more for what it didn't mention, including promoting human rights, combating poverty, discrimination, social exclusion and racism. Indeed much of the rhetoric, while paying lip service to the idea of a social Europe, proposed measures which are actively undermining that model in member states across the EU.
Western Sahara Resolution Passed
Following a debate on the deteriorating situation in Western Sahara MEPs voted in favour of a resolution which called on Morocco and the Polisario Front to co-operate fully with the International Committee of the Red Cross with a view to ascertaining what has happened to the people who have disappeared since the conflict began. The resolution also sought the protection of the Sahrawi population, respect for their fundamental rights, including freedom of expression and freedom of movement, in accordance with the Universal Declaration of Human Rights and the international treaties and conventions on human rights. MEPs also demanded a just and lasting solution to the conflict in Western Sahara, based on the rule of law and on international law, and the relevant resolutions of the UN Security Council, particularly Resolution 1495.
An Phoblacht Magazine
AN PHOBLACHT MAGAZINE:
Don't miss your chance to get the second edition of the 2019 magazine, published to coincide with Easter Week
This special edition which focuses on Irish Unity, features articles by Pearse Doherty, Dr Thomas Paul and Martina Anderson.
Pearse sets out the argument for an United Ireland Economy whilst Pat Sheehan makes the case for a universally free all-island health service.
Other articles include, 'Ceist teanga in Éirinn Aontaithe', 'Getting to a new Ireland' and 'Ireland 1918-22: The people's revolution'.