10 November 2005 Edition
Huge turnout for 100th birthday party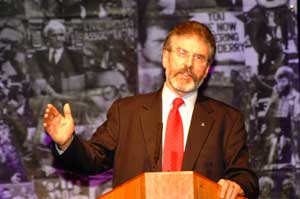 Céad Bliain -- Breithlá Shinn Féin
"We will see a united Ireland in our lifetime"
Sinn Féin President Gerry Adams MP addressing over 1,000 supporters at the party's Céad Bliain Birthday Dinner in Dublin's City West Hotel told those present:"We will see a united Ireland in our lifetime."
Adams' keynote address was made to an historic event which saw over 1,000 people from all parts of Ireland as well as Britain, Europe, the United States and Australia gather in Dublin to mark Sinn Féin's 100th anniversary in style.
There was a céilí as well as traditional music, ballads and performances from the Irish Sopranos and the McPeake Experience. The centrepiece of the evening however was the presentation ceremony to six republicans from different parts of Ireland and one from Australia. The presentation was a token of recognition for their service to the republican cause. Those honoured were Marie Moore, Lucilita Bhreatnach, Brendan Mohan, Eddie Collins, Eileen Shiels and John Gawned.
Marie Moore, currently serving as a Sinn Féin councillor in Belfast, said she was proud and honoured to received her presentation and thanked those who had nominated her. She emphasised: "This is not for me but for the grassroots Sinn Féin members and Volunteers who gave their lives. That is what has brought us to where we are today." She said that while women had often been referred to as the 'backbone' of the republican struggle, this often gave the impression that they were somehow only in the background. But she pointed out: "Women are to the forefront of this struggle and will continue to be to the forefront."
Eddie Collins from Cork told An Phoblacht: "It was a magnificent night and a great honour to receive. I know that the presentation was in recognition of what I did but I never saw what I did as anything more than I would expect to do as an Irishman anyway. I have the greatest respect for all the other lads who were with me down through the years."
I met great republicans in my time. Denis O'Connor from Midleton, Dan Buckley and Donie, his son. There was also Patsie Lawton and Paddy Fitzgerald. All of these men have passed away. They made a great impression on me.
"Some of those people I mentioned were involved in the Clonmult Ambush during the Tan War. We will have the commemoration of that in February. And next Sunday we will be hosting the Manchester Martyrs commemoration In Ladysbridge from where Michael O'Brien, one the Manchester Martyrs came from. One of his descendants, John O'Brien will lay the wreath.
"I have called the award I received the flame of freedom and when I received it I was thinking of all the other boys I knew, and I hope that flame continues to burn for all those who died in the cause of Irish freedom. A united Ireland will be the most fitting monument to build for them."
Eileen Shiels said that it was "a brilliant night. Fantastic. It was like a dream. I have to pay tribute to the committee who put all the work into it. It was so well done, down to the last detail of the green, white and orange balloons." She said that she felt 'humbled" on receiving the award: "The fact that it was in this special year of the Céad Bliain made it all the more special."
Looking back over the years she says it is "the ordinary people in every county who I remember. All those people that I can call to throughout the country unannounced. If I'm tired I only have to wrap on their window. A lot of those people turned up on the night as well." She made a special mention of the people of Mayo — in Achill and Ballycroy and in particular paid tribute to Dan Campbell, currently in hospital in Ballina after a stroke.
The Connacht/Ulster honouree Brendan Mohan could not make it to the event as he was in Australia where his sister currently lives. His award was accepted on his behalf by his daughter, Sinn Féin Councillor Brenda McAnespie. Brenda said that while her father was extremely honoured to receive the award, he felt that there were so many, other than himself who deserved it. Although thousands of miles away Brendan was delighted to take a congratulatory phone call from Sinn Féin President Gerry Adams on the night.
Former Sinn Féin General Secretary and former head of the party's Equality Department Lucilita Bhreatnach told An Phoblacht that she was very pleased to receive her award which she said she accepted on behalf of her family. She said her children and her former husband had made sacrifices in their own lives over the years to make her contribution to the struggle possible.
Lucilita said that she and the other honourees were "symbolic of hundreds of others in the room on the night and thousands of others around the country, the unsung heroes of the past 30 years and more". She said she was proud to have contributed to the work that so many others were also involved in and that she was pleased on behalf of herself and others, "not that you look for recognition but it is nice to have that work recognised in such a special way".
She added that she was acutely aware of the historic significance of the event: "I believe that in ten or 20 years people will look back at the event and note the buoyancy of the party at this time and the great opportunities that lies open for the nation and our people."
The atmosphere on the night itself was upbeat very good humoured and the message from Gerry Adams to those attending was a positive one. He commended all those who have struggled for the cause of Irish freedom over the years and welcomed those attending from throughout Ireland as well as the USA, Europe, Britain Australia. "We even have three people who have come the whole way from Colombia to be with us this evening," he said.
Adams praised those Irish revolutionaries who in the early years of the 20th Century built a struggle and a movement for justice and freedom at a time when Ireland faced poverty, oppression and the possible extinction of its language. "They were motivated by the idea that life in Ireland didn't have to be that way and that we on this island could have freedom. That is what we have in common with those people," he said.
Adams welcomed Taoiseach Bertie Ahern's decision to recommence the annual state commemoration of the Easter Rising in Dublin. "They should never have stopped such a commemoration," he said.
"We remember the IRA Volunteers of our time also," he said. We commend their families and their communities. Now Ireland is a different place. The big events at the turn of the last century — the foundation of Sinn Féin, the 1916 Rising, the 1918 elections, the counter-revolution, the Treaty and partition and all that flowed from it changed the political landscape of this island." The Proclamation, Adams pointed out, said that the land of Ireland belonged to the people of Ireland. It did not "belong to a British Queen or to Shell" or to an elite of "fat cats". The Proclamation, he said, called for all of the children of the nation to be treated equally and was opposed to sectarianism.
"We not only share that dream. Not only do we believe that things could be different, but we are actually going to be the generation that lives in a united Ireland."
He said that republicanism is stronger than at any time in recent memory and that republicans were moving forward with confidence.
He said that Sinn Féin had no monopoly over republicanism and that he welcomed recent efforts by others to subscribe to the republican legacy and pointed out that this would not be the case but that republicanism is close to the hearts of the plain people of Ireland.
He said that even though the IRA initiative of formally ending its campaign and putting arms beyond use occurred only a few months ago already a debate has started within unionism. "This may take sometime to play out but it is positive nonetheless.
"I know that the various initiatives by the IRA have caused huge difficulties for some sections of republicanism" but added: "Everybody does not have to agree with what the army did. Everybody doesn't have to agree with what I say or what other people in the leadership of Sinn Féin say. We are not leading sheep." What they had in common however was that they must stick together and that they win.
There was a need Adams said to engage with unionism. We need to open ourselves up to listen to their fears and concerns while making clear that the days of second-class citizenship are over".
He went on: "Irish people are more confident in our ability to tackle the issues which face us as a nation, to eradicate social inequality and build an island economy that serves the needs of all our citizens.
"Irish citizens in the North share that sense of confidence and are determined to play their part in building that new Ireland. Nationalists in the North are no longer second-class citizens and fully intend to play their part in the life of the Irish nation."