27 October 2005 Edition
Céad Bliain - Breithlá Shinn Féin: Celebration dinner 5 November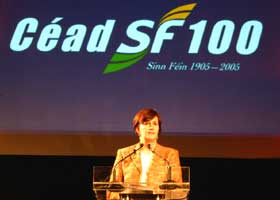 Toasting a historic year of celebration
It's been a very full year for Caitríona Ruane. Starting with the launch of Sinn Féin's Céad Bliain celebrations in Dublin's Mansion House last January, she has headed up a packed calendar that included the production of a new book looking back at 100 years of Sinn Féin, the re-launch of An Phoblacht, a women's conference in Newry, rallies throughout the country culminating in a huge National Rally for Irish Unity in Dublin and hundreds of local events.
It's been a very full year for Caitríona Ruane. Starting with the launch of Sinn Féin's Céad Bliain celebrations in Dublin's Mansion House last January, she has headed up a packed calendar that included the production of a new book looking back at 100 years of Sinn Féin, the re-launch of An Phoblacht, a women's conference in Newry, rallies throughout the country culminating in a huge National Rally for Irish Unity in Dublin and hundreds of local events.
The year-long series of commemorative and celebratory events is set to conclude with a Sinn Féin birthday dinner on 5 November in Dublin's City West Hotel.
"The dinner is a culmination of a year that has seen Sinn Féin and republicanism celebrated in all corners of this country," Ruane told An Phoblacht this week. "It's going to be a very special event, with people coming from all over Ireland and further a field."
The dinner will see republicans honoured from each of the five Sinn Féin Cuige regions, and will also pay tribute to one international honouree. "These people have all worked tremendously hard for Sinn Féin and republicanism," Ruane says. "It's fitting that we should honour them in this most historic and memorable of years."
According to Ruane this keynote political event will also be an opportunity for republicans to have a great night out with their comrades. "Ultimately, the dinner is a celebration. There will be great food, great music and great company on the night. It's a chance for us all to relax and enjoy ourselves after all the hard work that has been put in over the past year.
Ruane feels that the recent Fianna Fáil announcements regarding the re-instituting of the 1916 Easter Parade in Dublin are a direct result of Sinn Féin's Céad Bliain celebrations. "There's no doubt that we have put republicanism back on everyone's agenda," she says. "The other parties are looking at how we have grown this year, the attention we have received and are trying to reclaim their republican heritages. Well, we welcome the fact that the Irish Government is bringing back the Easter Parade. It should never have been stopped. And I hear also that Fine Gael are thinking of organising an event. That's also welcome.
"We don't claim a monopoly on republicanism. We want everybody on the island to share our ideology and policies. And we're going to continue putting republicanism on the agenda, making sure equality, inclusiveness and a united Ireland are at the centre of everyone's agendas."
Ruane says that she has had a fantastic year as the national organiser of Céad Bliain events. "For me, there have been many highlights. The women's conference in Newry was amazing, as was the launch in the Mansion House. But the biggest joy for me has been seeing the party develop throughout the year. Just recently I was at an election conference in Kilkenny and there were 500 republicans in the room. Sinn Féin has grown so much, and the more I travelled around the country meeting republicans, the more respect I gained for them. I must especially pay tribute to the party members in areas that don't have strong republican traditions. They have managed to foster the Céad Bliain spirit even in those areas."
Ruane also pays tribute to everyone who she has worked alongside throughout the year: "Carol Jackson has co-organised all these events and deserves a special mention," she says. "But the year wouldn't have been the success it was without the contributions and hard work from the entire republican community.
Honouring the work of republican activists
Each year Sinn Féin honours Irish republican activists from the around Ireland and abroad. Theses awards are but a small recognition of the work over many years by the each of the honourees in the cause of Irish republicanism.
Sinn Féin Cuige organisations in Dublin, the Six Counties, Connacht/Ulster, Munster and Leinster annually nominate a republican from their region to receive the honour while a republican activist from overseas is nominated by the party's International Department.
The honourees profiled below will be presented with a token of appreciation for their efforts at the Sinn Féin Céad Bliain Dinner in the City West Hotel, Dublin on 5 November.
Marie Moore - Six-County Honouree
A married mother of three, Marie Moore was born in the Clonard area of West Belfast. As a young child she was present as Tom Williams, Joe Cahill and others were arrested by the RUC before being sentenced to death. Marie was an active member of the Civil Rights Movement in the 1960s and joined Sinn Féin in 1970.
During the period spanning the No Wash protests and the Hunger Strikes Marie headed up Sinn Féin's POW Department. When Gerry Adams was first elected MP for West Belfast in 1983, Marie became the constituency secretary.
Marie spent eight years on the Sinn Féin Ard Chomhairle in the 1970s ad 1980s and was a active member of the party's Women's Department and Six-County Executive.
Marie was first elected to represent the Lower Falls in 1992 and has remained on Belfast City Council ever since, retaining her seat once again in the 2005 Local Government elections.
Lucilita Bhreatnach - Dublin Honouree
From a well-known republican socialist Dublin family, Lucilita joined Sinn Féin at 16 when she got involved with the Youth Department and her local cumann in Dún Laoghaire.
Throughout the 1980s she was involved in the H-Block-Armagh campaign and was Chairperson of the Stop Strip-Searching Campaign. She worked with An Phoblacht in 1982 before moving onto the party's Foreign Affairs Bureau where she headed up the Australia Desk.
First elected to the Ard Chomhairle in 1986, she was elected General Secretary in 1988 and held the post until 2003, the only female General Secretary of any party in Ireland. In this capacity, she played a key role in the development of the Sinn Féin's Peace Strategy and was involved in negotiations leading to the Good Friday Agreement. In the 1990s she represented the party at the Forum for Peace and Reconciliation and was elected in the 1996 elections in the Six Counties.
Between 1999 and 2002, Lucilita was in charge of Sinn Féin's Electoral Department. She went on to re-organise the party's Roinn an Chultúir and worked as head of the Equality Section, with a specific focus on gender equality.
Currently working as an Irish language journalist, Lucilita has two children Lucilita and Denis and two grandchildren Aoife and Eoghain.
For almost 30 years Lucilita played a valuable role in leadership at various levels within Sinn Féin and continues to be active in republican politics. Throughout this time she has inspired a new generation of republicans.
Eileen Shiels - Leinster Honouree
Eileen Shiels, mother of Caoimhe was born on 5 March 1953 in Baile Ghib, a Gaeltacht area in County Meath. Her mother Hannah comes from the Dingle Peninsula and her father Neil is the grandson of 'An Tailli Ir Rua'. The latter with two others was responsible for ending the tyranny of Lord Leitrim in Fanad on 2 April 1878.
Eileen and her sisters became immersed in republican activities in 1971 when they witnessed dozens of Belfast people being sent to Baile Ghib following the burning of Bombay Street.
With her beloved aunt Maggie (mother of Con McFadden, a republican ex-POW who served 14 years in jail in England) she travelled Ireland attending functions, parades, marches and other events. She travelled the highways and by-ways of the 26 Counties delivering An Phoblacht with her friend the late Mick Murray.
Eileen has a special devotion to prisoners. She continues to travel to many prisons in Ireland and England. The desire to see Ireland free continues to drive Eileen in her dedication to the republican struggle.
Eddie Collins - Munster Honouree
Eddie Collins was born and still lives in Garannes James, Mogeely in East Cork. As a young boy he helped his father in various republican activities and remembers Easter Lilies being sold in 1939.
As a young man Eddie, like many others, was forced to emigrate to England where he joined the Wolfe Tone Society, selling the United Irishman newspaper and speaking at Hyde Park Corner.
On returning home Eddie continued his support for republicanism and went to Derry for the famous march in October 1968 where the world first saw the RUC battering nationalist marchers.
Eddie spent most of his time over the next few years in the border region working with other republicans who were organising to combat the Stormont regime and British rule.
During the 1970s he spent time in the Curragh Camp and Portlaoise Prison for his republican activities. At the end of the '70s he returned to East Cork and began organising republican support in the area. Eddie is still very active in his home area and was a member of the core group which made the Sinn Féin Tent such a success at this year's Ploughing Championships.
Brendan Mohan - Connacht/Uladh Honouree
A founding member of the Jack McCabe Sinn Féin Cumann in Scotstown, County Monaghan in 1971, Brendan Mohan has been ever since, a dedicated republican activist.
Whether countering the anti-republican media through the harsh censorship years through the promotion of our weekly newspaper An Phoblacht, in fundraising, ensuring the success of local and national draw efforts, or in canvassing every home in each and every electoral challenge undertaken, Brendan Mohan has been a solid party activist.
Brendan and his wife Kathleen have one daughter Brenda McAnespie who is a Sinn Féin member of Monaghan County Council.
Brendan is widely regarded too for his community activism, a natural extension and integral part of his political work. This has been demonstrated through his commitment to community development projects over many years, including his local Group Water Scheme, the Hollywood Lake Development Committee, the annual Tydavnet Agricultural Show and the very successful Scotstown GFC.
The success of the Sinn Féin project in Monaghan is due primarily to the commitment and hard work of men and women activists like Brendan Mohan.
John Gawned - International Honouree
Born in Perth, Western Australia and domiciled in Melbourne, Victoria for the last 40 years John is one of Australia's foremost trade union activists. A member of the Meatworkers' Union he has had past affiliations with the Metal Trades and the BLF Unions. A dedicated worker for union causes his first sojourn into active Irish republican causes was in organising the campaign around the Dessie Ellis Hunger Strike in 1990. For that particular campaign he organised, arguably, the biggest fundraiser ever held in Australia.
John took up the banner of the Casement Accused in 1991 and raised funds for prisoners' welfare and brought to Australia an awareness of the injustices of that particular trial.
He later took on the onerous task of fundraising for and promoting Sinn Féin visits to Australia. He actively co-ordinates between AAI (Australian Aid for Ireland) and Friends of Sinn Féin in other states. His proudest moment was to see a memorial to the Irish Hunger Strikers erected in Free Trade Hall in Melbourne.
John deserves the honour accorded him for his unswerving support for the cause of Irish republicanism and the tenacity with which he approaches any task required of him.