27 October 2005 Edition
The 5th Column
U2, the IRA and Baldy Barry
At least one Irish TV broadcaster and some radio stations did some swift re-edits of their news scripts to leave out some excerpts that they had aired earlier from the homecoming news conference of Guardian Journalist Rory Carroll, kidnapped by anti-occupation forces in Iraq.
The Dubliner and former news scribe for the Irish News in Belfast was keen that his abductors didn't mistake him for a Briton. He drew a map of Europe, illustrating the gulf between Ireland and Britain with an exaggeratedly wide Irish Sea. And to make sure they knew he was from the Emerald Isle rather than the land of John Bull, Rory rattled off a string of Irish associations, including U2 and the IRA! He was so desperate that he even quoted the RTÉ TV soap, Fair City, in the hope that his Arab captors would readily recognise the fictional Dublin suburb of Carrigstown and characters like gossip Eunice Phelan, work-shy son Christy Phelan, one-time teacher 'Baldy Barry' who seduced one of his school pupils, and moany Charlie Kelly.
To think that a man's life can hang by the very thin thread of a man with a gun in Baghdad's Sadr City being a fan of Fair City: the whole episode sends shivers up your spine.
Paisley's in the Privy
Ian Paisley is in the Privy but it's not the toilet: it's the Privy Council.
The Privy Council officially advises Queen Elizabrit but is largely ceremonial and has not met in full for 50 years. Appointment is for life, but only Ministers of State participate in its policy work.
Papa Doc is entitled to the status as the leader of the fourth largest political party in Westminster. And the big man has been complaining that it's well overdue. "It's only deliberate discrimination against the Democratic Unionist Party that kept it coming for such a long time."
And the DUP knows all about discrimination.
Bully Buller
MI5 boss Eliza Manningham-Buller appears to turn a blind eye to torture techniques employed by allies to extract information from suspects. And so does her overseas chums in the James Bond brigade over at MI6.
Dear Eliza admitted as much in a court statement to Britain's law lords but leaked to Channel 4 News.
Britain's spy mistress takes the approach of "Don't ask, don't tell," about 'friendly' states' interrogators if they put electrodes on your sensitive bits, near drown you in a bath of freezing water, hang you by your finger tips, or abuse and rape you and/or your relatives.
Referring to the case of one prisoner in the hands of the Algerian Secret Service, Bully Buller says: "No inquiries were made of Algerian liaison about the precise circumstances that attended their questioning."
MI5 and MI6 just don't want to know.
Shami Chakrabarti, director of Britain's human rights group, Liberty, said: "As in the past, Dame Eliza Manningham-Buller is brutally honest about the murky and dubious world of secret intelligence. However, it is one thing to recognise that some of our so-called allies torture people and quite another to legitimise that practice through our court system."
Weapon dump
The Sainsbury's supermarket chain's new slogan is, "Try something new today," and if you're using the toilets in their Hitchin, Hertfordshire, branch you might find something a little above the bog standard — a Ministry of Defence Sig Sauer 9mm automatic pistol.
An MoD "worker" apparently "mislaid" the piece in the pissoir while doing their business, although why our pistolero felt the need to be armed and dangerous in a supermarket lavvy hasn't been explained by worried military minds.
Shopping schoolkids
Asda's parent company, Wal-Mart, is ever vigilant and keen to play its part in 'The War Against Terror'.
A schoolkid in North Carolina, working on a photographic project to illustrate the liberties that Americans enjoy under the Bill of Rights in 'The Land of the Free', took a photo of himself standing beside a poster of George Bush, giving him the "thumbs down". He then put the film into Wal-Mart's for developing, who then promptly informed the police. Suspecting subversion, the FBI swooped on the school, confiscated the offending photograph, grilled the teacher, and then had a few patriotic words with the boy.
Shop naked
Housman's Bookshop, London's oldest radical bookshop and stockists of An Phoblacht, is celebrating its 60th birthday.
Since 1945, Housman's has been selling books and magazines covering politics, peace studies, current affairs, as well as fiction and all sorts.
One of the eye-catching highlights of a packed series of events is 'Naked Shopping Night at Housman's' on Wednesday 22 November .
The hospitable Housman's team urges browsers: "Throw off those sweaters, leave the thermal tights at home, and join us for a relaxed evening of bare book shopping and socialising to celebrate both the publication of Bare Britain and the success of this year's World Naked Bike Ride. Localised 'blowers' and warming 'cups' (optional) will help keep off the winter chill.
So if any London-based radical fancies zipping along to pick up An Phoblacht and a 'blower', Housman's is at 5 Caledonian Road, London N1 9DX (telephone 020 7837 4473; [email protected], www.housmans.com), across the road from King's Cross Thameslink Rail Station.
The 5th Column hopes to be there, but don't expect a report back because I'll have nowhere to stick my pencil.
An Phoblacht Magazine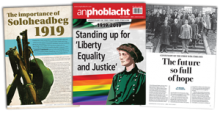 AN PHOBLACHT MAGAZINE:
Don't miss your chance to get the first edition of 2019 published to coincide with the 100th anniversary of An Chéad Dáil and Soloheadbeg.
In this edition Gerry Adams sets out the case for active abstentionism, Mícheál Mac Donncha takes us back to January 21st 1919, that fateful day after which here was no going back and Aengus Ó Snodaigh gives an account of the IRA attack carried out on the same day of the First Dáil, something that was to have a profound effect on the course of Irish history.
There are also articles about the aftermath of the 8th amendment campaign, the Rise of the Right and the civil rights movement.