27 October 2005 Edition
Two nations, one struggle
BY LAURA FRIEL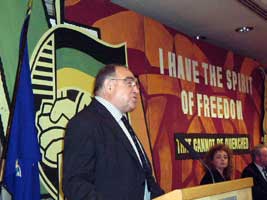 South African Minister visits North
"We'll be with you when Ireland is one" - Kasrils tells republicans
We clapped and cheered and laughed our way through a evening of solidarity and understanding with South African Government Minister Ronnie Kasrils and his comrades who had travelled to Ireland to attend Sinn Féin's Céad Bliain anniversary celebrations.
Speaking at the Belfast rally Kasrils said the republican vision of freedom and justice in Ireland was achievable and closer than we dared to imagine. "You haven't long to go," said Ronnie. The Government Minister said he was privileged to represent the ANC at the anniversary event. "And we'll be with you when Ireland is one," he said.
A former Director of Intelligence for the military arm of the ANC, Umkhonto we Sizwe (MK), Ronnie Kasrils was appointed to his present Ministerial role in 2004.
Commenting on the importance of national reconciliation Kasrils said republicans needed to liberate unionists: "Just as we liberated White South Africans from Apartheid." With maturity and humanity republicans can release unionists from their nightmare.
White South Africans had been "throttled by the fear of their ancestors", said Kasrils, but free from fear they could now enjoy the peace and progress of the new South Africa.
Recalling the time when the South African Government had hosted republican, nationalist and unionist delegations in the very early stages of the Irish Peace Process, Kasrils recounted a trip to the southern most tip of Africa. Unionists had refused to travel on the same bus as Sinn Féin so an additional minibus was arranged.
The Sinn Féin delegation arrived first and the unionists almost never made it after their demand to clear republicans off the road was declined by their South African hosts. At the tip of Africa everyone was invited to contemplate a point in the sea where two oceans meet. "There are some people who say if you watch closely enough and stare long enough, you can see the dividing line between the Atlantic and Indian Oceans. In point of fact there is no line and the metaphor, the key to understanding is recognition of the togetherness of humanity," said Ronnie.
A short film entitled, Two Nations, One Struggle used news footage of the struggle for freedom in South Africa and Ireland to illustrate parallels between a shared history of colonial oppression and resistance. Powerful images of the Sharpeville massacre dovetailed with scenes from Bloody Sunday, footage of ANC prisoners on Robin Island and the Blanket Protest of Long Kesh provided an emotional point of recognition and solidarity.
Sinn Féin's Chief Negotiator Martin McGuinness acknowledged the strong relationship, "over many decades" between the ANC and Sinn Féin. "Our message is the message of Nelson Mandela," said McGuinness. "We are and we will continue to stretch out the hand of friendship to Ian Paisley, Peter Robinson, Nigel Dodds and other unionists because that is what is required if the Peace Process is going to succeed.
"Difficult decisions have been taken but I believe they were the right decisions. They caused pain and difficulty for many republicans but there is an inevitable air about where all this is leading," said McGuinness.
The full implementation of the Good Friday Agreement would further the inevitability of Irish unity. "We are moving forward with great hope, great confidence and great optimism," said McGuinness.
During his visit to the Six Counties Ronnie Kasrils and his entourage were hosted by the Sinn Féin Mayor of Newry and Mourne Pat Maginn.
At a civic reception in the Tí Chualáin Centre in Mullaghbawn, on Tuesday 26 October, Kasrils met the Sinn Féin MP for Newry and Mourne Conor Murphy. He briefed him on the on-going military occupation of the South Armagh area. Both Sinn Féin, SDLP and Independent Nationalist members of Newry and Mourne Council attended the reception
On Wednesday 27 October Mr Kasrils officially opened the office of Cuige na Sé Chondae on the Falls Road in Belfast. Attending the opening were members of the Officer Board of Comhairle na Sé Chondae, including Chairperson Declan Kearney.