27 October 2005 Edition
Sinn Féin goes to Europe over Irish Ferris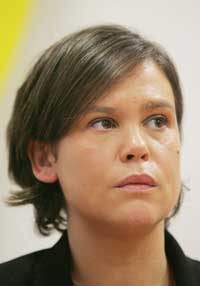 A demonstration in support of Irish Ferries workers has been called by SIPTU outside Liberty Hall on 3 November at 1.30pm. The demonstration will then march to Government Buildings as a show of strength for workers in the ferry company facing forced redundancy. Workers from all unions are being asked to support the march.
Sinn Féin National Chairperson and MEP for Dublin Mary Lou McDonald met with EU Commissioner Charlie McCreevy in Brussels on Tuesday. The meeting discussed the proposed Services Directive but McDonald took the opportunity to raise the plight of Irish Ferries workers and the possibility of an EU Ferries Directive to prevent such exploitative practices.
Previous attempts to get just such a Directive through the Council of Ministers finally collapsed in August 2004 after nearly five years of negotiations as a result of opposition from Greece and the 26 Counties.
In a separate development, Sinn Féin's spokesperson on Workers' Rights Arthur Morgan met with the Seamen's Union of Ireland. There are substantial differences between SIPTU and the Seamen's Union on the approach to the dispute, with SIPTU supporting a solution based on a report by independent consultants Greg Sparks and Martin King.
This report, however, accepts the outsourcing of low-paid jobs in the catering and cleaning sections, generally represented by the Seamen's Union, while protecting the jobs of other, more highly paid employees and is bitterly opposed by the union.