27 October 2005 Edition
Adams 'shock and regret' at death of Rosa Parks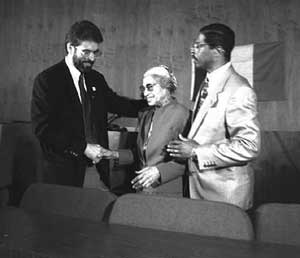 Sinn Féin President Gerry Adams MP has expressed "shock and regret" at learning of the death of Mrs Rosa Parks.
Gerry Adams described Parks as "one of the great leaders of the 20th Century whose courage and example achieved radical social change in her own country but also across the globe".
The Sinn Féin President said: "I had the great honour and privilege to meet Rosa Parks in Cleveland in October 1994 (picture right). She had long been one of my heroes. Rosa was a role model of what we sought to achieve peacefully and non-violently in the Civil Rights Movement in the North in the 1960s.
"She was a quietly spoken woman who endured much hardship in pursuit of the ending of the apartheid segregation laws in the United States.
"Her refusal to sit at the back of the bus is an example of how one person can make a difference in the struggle for human rights and dignity."