20 October 2005 Edition
War of Words
BY LAURA FRIEL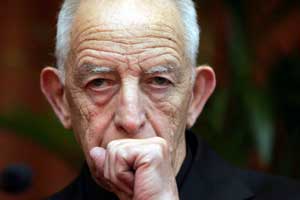 If last week's controversy between anti-Agreement unionism and Catholic Priest Alex Reid tells us anything it's that dialogue between nationalists and unionists can be as difficult as it is necessary.
It also tells us something else. Any normal process of reconciliation, which might have been expected following an end to the armed conflict, is being hampered by a "war of words" through which anti-Agreement elements hope to thwart the process in which real reconciliation can occur.
Since de Chastelain's report on the IRA's act of putting arms beyond use, the political priority of anti-Agreement unionism and other reactionary elements has been to discredit the process by any means possible. The two independent eyewitnesses, Methodist Minister Harold Good and Redemptorist Priest Alex Reid were obvious targets. Initial attempts to discredit Harold Good failed but rejectionist unionism still had Reid in their sights. During a meeting at a Presbyterian church in Belfast the public row that developed between Reid and anti-Agreement campaigner William Frazer was intemperate and insults were exchanged.
But outside the political imperatives of anti-Agreement unionism the interchange should have been insignificant beyond perhaps some recognition of the enormity of the gap forged by partition and yet to be closed by a national reconciliation process.
The reaction of the protagonists was telling in itself. While Reid was swift and remorseful in his apology, Frazer sought further humiliation of his debating opponent by recourse to legal action. We are now facing the grotesque pantomime of legal action spearheaded by DUP MLA Arlene Foster citing incitement to hatred legislation against a priest with an exemplary public record on the basis of a few hasty and ill-chosen words.
Of course the DUP cannot boast of such an exemplary public record. On the contrary the party and its leader Ian Paisley has a long and well-documented history of incitement to anti-Catholic hatred.
In the late 1950s Paisley, leading a rally of unionist supporters on the Shankill Road, gave out the names and addresses of Catholics living in the area. Addressing the "people of the Shankill", Paisley had demanded, "what's wrong with you"?
"Number 425 Shankill Road. Do you know who lives there? Pope's men, that's who! Forte's ice cream shop. Who lives there. Italian Papists on the Shankill Road! How about 56 Aden Street? For 97 years a Protestant lived in that house and now there's a Papist in it. Crimea Street, number 38. Twenty five years that house has been up. Twenty four years a Protestant lived there but there's a Papist there now," Paisley told the crowd.
Having whipped up sufficient sectarian hatred to ensure the rally concluded by attacking the homes and businesses of the Catholics he had targeted, Paisley left the mob to do its work. "Did you read the paper this morning," an excited Paisley had asked a unionist colleague the following day. The colleague asked if Paisley had been responsible for the attacks. "Not me," came the smug reply, "I was in the car on the way home," said Paisley.
It may have happened almost half a century ago but the account of Paisley's actions on the Shankill remain significant in two ways. Paisley went on to build his clerical and political popularity by encouraging and manipulating the mob's anti-Catholicism.
Just as significantly, throughout his career as fundamentalist preacher and reactionary politician Paisley has never taken any responsibility for his actions and has never been called to account.
At other times Paisley has acted as an apologist for sectarian violence. In 1968 the DUP leader claimed that Catholic homes had not been burnt out as a result of sectarian unionist attacks. "Catholic homes caught fire because they were loaded with petrol bombs; Catholic churches were attacked and burnt because they were arsenals and priests had handed out sub-machine guns to parishioners," said Paisley.
In 1998 while condemning the killing of the three Quinn children, who were burned alive during a unionist paramilitary firebombing of their Ballymoney home, Paisley refused to accept that the motive had been either sectarian or linked to the Orange Order's protest at Drumcree.
To date the only person to be successfully prosecuted under incitement legislation was a member of the DUP. The late George Seawright was prosecuted after advocating Catholics should be incinerated. Seawright told a meeting of Belfast Education and Library Board that instead of building schools they should build an incinerator in which to burn Catholics and their priests. Seawright was expelled from the party after his conviction.
It's not difficult to see why many nationalists feel the sectarian persecution they have suffered in the interests of continued unionist domination in the Six Counties holds some resonance with the anti-Semitism that once fuelled Nazi hegemony in Germany .
In not difficult to see why many unionists, some of whose grandfathers died in the conflict to defeat Nazi Germany, experience the analogy as inappropriate and insulting. But the sad truth is that the political row that emerged following the interchange between Alex Reid and William Frazer last week has nothing to do with either of these things. It is a row manufactured by those who see their interests, not in terms of ending sectarian divisions and promoting reconciliation, but in maintaining those divisions, fuelling antagonism as a means of thwarting political progress.
Sinn Féin South Belfast MLA Alex Maskey heads the party's outreach to unionism programme. Responding to the furore surrounding the public row between Fr Reid and William Frazer he said that we all need to be careful in the language we use: "but we cannot ignore the extent, nature and causes of sectarianism".
Maskey went on to say: "I appreciate that many unionists have had difficulties with the language used by Fr Alex Reid but by the same token many of these same unionists and indeed church leaders have used language that has denigrated and demonised nationalists and republicans."
"Of course we need to be careful in the language we use but we cannot ignore the elephant in the room. If we are going to meaningfully challenge it then we need an honest debate about the true extent, nature and causes of sectarianism within our society.
"Unionist leaders are in denial about the history of the state, their own responsibility for this and the conflict which resulted from this. The Good Friday Agreement contains Equality, Human Rights and Policing agendas precisely because there has been institutionalised discrimination, sectarian policing, injustice and repression."