20 October 2005 Edition
RUC Branchman kept murder files
BY LAURA FRIEL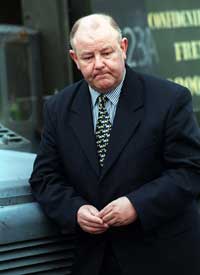 A former RUC Special Branch detective has dramatically revealed that material central to a murder inquiry is still in his possession.
The scandal emerged after retired Special Branch officer Eric Anderson told a TV documentary team that he had documented evidence relating to a murder investigation in a bid to secure payment for his co-operation with the film-makers. And he has further admitted to personally keeping Special Branch files to thwart any adverse investigation by Police Ombudsman Nuala O'Loan.
The files in question relate the Arlene Arkinson murder case. Arkinson, then aged 15, disappeared in 1994. In what many believe was a travesty of justice, a known, violent sex offender was acquitted of her murder earlier this year.
In the wake of the revelations, Sinn Féin's Pat Doherty has called on the Ombudsman to investigate more RUC and PSNI cases where evidence has been unavailable or missing. The West Tyrone MP led a Sinn Féin delegation in a meeting with Nuala O'Loan and called for an audit to ascertain how many Special Branch files were missing and an inquiry into the conduct of the investigating officers involved in the Arkinson case.
Doherty said the meeting with O'Loan had been a "serious engagement". Sinn Féin raised three broad issues. First, the question of the files Anderson has admitted taking, in his own words because 'O'Loan was mad keen to discredit us'. "We asked did Anderson's comment refer to other Special Branch officers. Did they all keep files?" Doherty said.
The delegation called for an audit of Special Branch files as a means to determine how many might be missing. "We also asked about other cases in which Anderson had been involved and, in relation to the Arkinson murder inquiry, whether the case had been pursued properly or had the family been abandoned and abused because investigating officers were pursuing another political agenda.
"Investigation into this may well go far beyond the remit of the Police Ombudsman's office. This has ramifications for the wider justice system. We will be seeking a meeting with British Security Minister Shaun Woodward to discuss the wider implications."