20 October 2005 Edition
"It can be done. It must be done"- Mbeki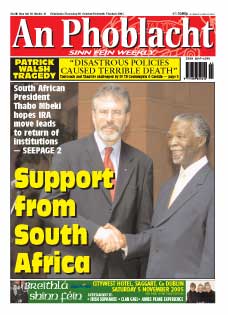 South African President lauds IRA move and asks unionists not to fear change
Speaking after meeting Sinn Féin President Gerry Adams in Pretoria on Wednesday, South African President Thabo Mbeki said that the recent initiative by the IRA "has opened the way for the full implementation of the Good Friday Agreement".
He added: "It is our hope that this historic step taken by the IRA is a strategic contribution to opening the way to the re-establishment of the government."
Mbeki was speaking at a joint press conference held by the two leaders in Union Buildings which was followed a private, one-hour meeting during which the Sinn Féin President thanked President Mbeki and the South African government for their positive and invaluable contribution to the Irish peace process.
President Mbeki, remarking on the difficulties presented by a process of change said: "We might find that the unionists are afraid of what they might lose by this change, having been accustomed to particular things. Take the experience of this country. It was the same experience. The white minority were afraid of change in case they might lose something but now we find 11 years after, they are all saying that 'what we feared we would lose we did not lose. We are happier. We are freer. We are more secure. We are richer. There's no sense of someone coming to stab us behind our backs'.
I think that if we move the peace process in Ireland forward people of this point of view will discover that that future is indeed a much, much better one for everyone."
President Mbeki added: "It is the responsibility of everyone to move and "it can be done it must be done."