29 September 2005 Edition
Rally will demand justice for Mayo men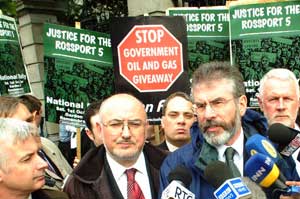 Rossport 5
Men have now spent 93 days in jail
LE
CATHAL Ó MURCHÚ
Sinn Féin President Gerry Adams MP and Martin Ferris TD visited Micheal Ó Seighin, one of the Rossport 5, in Cloverhill Prison last Wednesday. Later Sinn Féin TDs raised the case of the five men in the Dáil demanding that the government intervene to resolve this matter.
Meanwhile Shell-to-Sea campaigners are planning for a major march and rally calling for the release of the Rossport 5 next Saturday 1 October. The rally is expected to draw activists from all over Ireland and is the culmination of a series of protests, pickets, marches, rallies and public meetings that have been taking place throughout the country since the five were imprisoned in June. A fundraising concert will also take place in the Ambassador Theatre in Dublin City Centre.
The five men have now spent 93 days in jail on the basis of an injunction by Shell removing their right to protest against the huge gas pipeline being driven through their land in West Mayo. The five say they will purge their contempt if Shell waive its injunction.
A National Day of Action took place on Wednesday evening with Shell and Statoil service stations picketed throughout the country.
Rally
The main theme of the National Rally is Justice for the Rossport 5. Floats and street theatre are expected to feature during the march which will assemble at 2pm at the Garden of Remembrance, Parnell Square from where it will proceed to Leinster House for a major rally.
Concert
On the following night, a Shell-to-Sea fundraising concert takes place in the Ambassador Theatre at the top of O'Connell Street. Artists performing include Damien Dempsey, members of Kila, the International Blues Band, Frances Black, Barry Murphy and various traditional musicians. Tickets are €20 and are available from the Dublin Sinn Féin Cúige office, Phone: 8729004 or from Ticketmaster (with additional cost).
Day of action
A day of Action took place on Wednesday 28 September, following the reconvening of the Dáil, commencing at midday with a protest calling for the release of the Rossport 5 and highlighting the demands of the Shell-to-Sea campaign. Later a series of protests and pickets were placed at Shell and Statoil service stations all around the country.
In Dublin all of the major routes were covered and the protests were highly visible to commuters. As with previous pickets and protests, these enjoyed good support and drew much encouragement from passing members of the public.
Leafleting campaign
Sinn Féin in Dublin has organised a leafleting campaign highlighting the campaign. At 8am every morning from Monday 26 to Friday 30 September activists are distributing leaflets on the issue at Dart stations and in the city centre. Leaflets are also distributed in the evenings.
Waterford
Activists in Waterford have picketed Shell and Statoil stations twice a week and are in the process of delivering 20,000 leaflets on the issue throughout Waterford City and County.