29 September 2005 Edition
Taoiseach says IRA did not kill Rafferty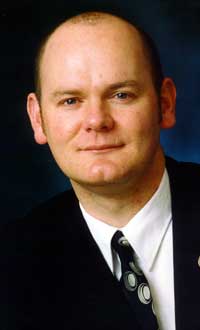 Taoiseach Bertie Ahern has said the he is satisfied that there was no official involvement by republicans in the brutal murder of a Dublin man in West Dublin in April.
"I don't think there were any instructions given by the IRA," Ahern said on Tuesday, adding: "Elements, probably of criminality, claimed they had links with republicans."
Joseph Rafferty (28) was shot dead near his home in Ongar on 12 April. Members of his family met the Taoiseach on Tuesday last as part of their campaign to bring those responsible for the murder to justice.
Since the murder, several notoriously anti-republican journalists have claimed that the IRA killed Rafferty while others have said that Sinn Féin members were responsible. This has been vehemently denied by Sinn Féin from the outset.
Sinn Féin Dublin City Councillor Daithí Doolan, who represents the Southeast Inner City where Rafferty originally came from and where his family still lives, has been a prime target for the media smear campaign. Doolan has met members of Joseph Rafferty's family on numerous occasions to try and assist them in their efforts to bring Joseph's killers to justice. He has called for anyone who knows anything about the murder to come forward and to give that information to the Garda.
Speaking in Dublin on Friday 23 September Sinn Féin President Gerry Adams MP supported Doolan's call for anyone with information to assist the Rafferty family in their search for justice by co-operating with Gardaí in the investigation of the murder. He also said that he would be willing to meet with members of Joseph Rafferty's family.