29 September 2005 Edition
Governments need to implement Agreement as promised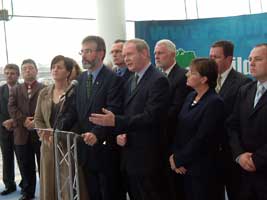 SF President Gerry Adams responds
Responding in detail on Monday to the announcements by General John De Chastelain and two other members of the IICD and two independent witnesses about the IRA's historic arms initiative, Sinn Féin Gerry Adams said it was a full and positive response to his April appeal to the IRA. He also said that it was time now for the British and Irish Governments to implement all aspects of the Good Friday Agreement as they had promised.
Addressing unionists he said he understood they would need space to absorb the import of developments and asked them to reflect upon the potential which is now created, and to see it as an opportunity.
Here we carry the full text of Gerry Adams' speech.
"I consider this afternoon's announcements to be a very full and positive response to the appeal that I made in April. At that time I called upon the IRA to pursue their goals by purely peaceful and democratic means. This was in keeping with the position outlined by Sinn Féin going back over many years. I want to commend the leadership of the IRA for moving so decisively.
I know that today's announcement will be difficult for many republicans. I saw that myself as we watched the press conference of the IICD and the two independent witnesses. This was a bold and brave leap. But all us need to think beyond it. We need to think beyond the moment. It is not the leap itself but the place that it takes us all that is important. For this reason the IRA's courageous decision was the right thing to do.
Both governments now need to be focused, decisive and creative. They need to implement the Good Friday Agreement as they have promised to do. There must be progress on equality, policing, human rights, people on the run and victims. There must also be progress on other issues, including prisoners and Northern representation in the Oireachtas. There must be a proper peace dividend to tackle inequality, discrimination, deprivation and sectarianism wherever it exists. The political institutions must be restored.
I understand and appreciate that unionists need space to absorb what all this means. I would ask them to reflect upon the potential which is now created and to see it as an opportunity. Some unionists may fear that this is a tactical manoeuvre, or an attempt to trap them. It is not. Some unionists have expressed fears about a Plan B. There is no Plan B. There is no secret agenda. Unionists say they do not trust republicans. But they do need to trust themselves.
The IRA's decision to formally end its armed campaign and today's announcements are genuine initiatives to revive the Peace Process by conclusively resolving the concerns of unionists. Issues relating to the IRA, which were presented as difficulties for unionists, have now been definitively dealt with.
There are those who will try to dismiss or to minimise what has been announced today. We are prepared to meet those people to discuss their concerns. Our leadership will also be seeking meetings with political, church, business and civic interests to build on the progress of today's events and to discuss all these urgent and important issues.
I would appeal therefore to political leaders to respond carefully. The words of some in the past have fuelled sectarian violence against Catholics and this has been a particularly difficult summer. There were serious attempts to provoke a reaction from nationalists and republicans. There may well be other attempts in the time ahead so I call upon people to show the calm and discipline that was evident over the summer months and particularly in recent times.
This initiative has opened up a new phase in Irish political life. This is not just about the Peace Process and conflict resolution, though that is vitally important. It is bigger than the question of arms.
It is about the future of this island, the type of country that we want to live in, the sort of society that we desire for future generations as well as this generation.
Sinn Féin is proud of our republican values. Our strategy is to bring about Irish unity and independence. And we will campaign and argue for this as we expect unionists to argue for their political vision.
But in the interest of our shared constituencies we are prepared to work with them in the political institutions to deal with the outstanding issues of the Peace Process and the social and economic needs that face people at this time. One of the most critical issues facing us at this time is the pressing need to tackle sectarianism. The context for this is the Good Friday Agreement.
We are not naive about the hard work and the difficulties which have yet to be overcome. But a new dynamic has been created. Republicans face into this with confidence. We appeal to unionists and others to join with us. To leave the past behind and to build a shared and peaceful future for all our people."