29 September 2005 Edition
Government called to act on childcare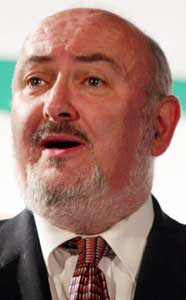 In a major new report The National Economic and Social Forum (NESF) has identified a massive deficit in the provision of early childhood care and education in the 26 Counties, despite the recent economic boom. According to the report the government has failed to ensure adequate care and education for the 10% of the population under six years of age.
The NESF has proposed:
o Universal access to early childhood care and education.
o Ongoing quality development in policy, infrastructure and service provision.
o Increase of paid maternity leave to 26 weeks.
o State-funded high quality early childhood care and education session of 3.5 hours per day, five days a week for all children in the year before they go to school.
o Child and Family Centres at local level to provide integrated services to disadvantaged children and their parents.
o Responsibility for early childhood care and education to reside in one Government Department.
Welcoming the report Sinn Féin Dáil leader Caoimhghín O Caoláin said: "The NESF has set out a clear programme to provide universal access for all children to early childhood care and education. This includes support for children and parents in the home, in childcare facilities and in primary schools.
"Many of the NESF recommendations were also made by Sinn Féin in our document Putting Children First in advance of the 2005 Budget. The Budget failed miserably to address the needs of children and this makes it all the more urgent for the government to act now, in time for Budget 2006.
"Very importantly, the NESF provides a cost-benefit analysis that shows that for every euro invested in early childhood care and education a return of €7.10 can be expected. This answered those who have criticised the proposals of those in the childcare sector, and of Sinn Féin, as being beyond the means of our economy.
"This Report must not be allowed to gather dust on a shelf as the Government has done with previous key NESF recommendations. It now provides a focus for all those campaigning for the rights of children."