15 September 2005 Edition
Unity essential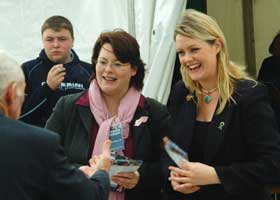 BY
MICHELLE GILDERNEW MP
No I'm not talking about our Céad Bliain celebrations in Dublin on 24 September, or a more common political discussion on our constitutional position, but more about a key political issue facing rural Ireland — Irish Farming.
In three weeks time from Tuesday 27 to Thursday 29 Sinn Féin will again show that we are not just an urban party, as some of our opponents would like to believe, by exhibiting again at this years National Ploughing Championships in Mogelly, Midleton, County Cork.
In what can only be described as a huddled tented city, over 700 exhibitors, and thousands of visitors — last year there were 187,000 — will make their way to County Cork to spend a few days either discussing what is happening in the farming industry, to the rural way of life, EU and government red tape or simply to relax and examine what is on offer, or even to do some business.
Dispelling the myth that Sinn Féin is simply an urban party, or one with a single political agenda has not gone down well with our political opponents. That idea that Fianna Fáil or Fine Gael or the UUP and SDLP in the North represent rural Ireland has been exposed as a fallacy. The establishment parties have taken for granted the support of vast areas of the country, each other playing one type of farmer off against the other.
Fine Gael are traditionally associated with looking after the interests of large farmers while Bertie's men have been slapping the backs of small farmers for years, telling them how 'we'll look after you'.
It is the same in the North with the UUP looking out for the interests of bigger unionist farmers and the SDLP claiming to take care of the smaller, more commonly nationalist farmers.
Given the ongoing betrayal of one of the most remote parts of the country in County Mayo and the shoddy treatment of the Rossport families by the main parties, together with the recent publication of the research from the Combat Poverty Agency exposing the massive Rural-Urban poverty divide, these parties must wonder at the long-term attitudes of rural Ireland towards them.
Those of us who live in a rural areas, like Donegal, Mayo, Leitrim and Longford are at the greatest risk of not being able to afford basic necessities such as clothing, food and heating.
The Border and Western Region, which is suffering ongoing job losses such as those seen in Donegal over the past fortnight, have the highest level of elderly residents, the lowest level of educational attainment, high levels of economic dependency and the highest incidence of small farming activity.
Central to all of this is the failure of successive governments to tackle the issue of Housing. This is not just an urban problem. Poor Housing is widespread in rural Ireland, adding to the risk of poverty. Rural dwellers and farmers have a right to feel betrayed, farm incomes are plummeting, promises of proper investment both in employment, housing and infrastructure in rural areas, particularly those in the Border and Western Region have been broken. In the midst of all of this, farmers and rural dwellers have not had their voices heard because of a policy of divide and conquer.
Bertie's cabinet has successfully played one group of farmers off against the other. This was witnessed recently with the sugar growers in Carlow and then with the WTO reforms. Beef farmers have mounting losses. Dairy farmers are getting squeezed more every day; thousands will leave the industry in the coming years.
Fishing communities and rural villages have suffered more than most, while those in favour with Fianna Fáil Ministers have made millions from huge vessels.
It is no different in the Six Counties. There is little sense of solidarity among different farming interests.
While Rome Burns the Irish Government dithers and all of the farm organisations along with many vested interest groups look after their own members or interests. They all know what the problems are, but none of them have taken the initial steps to allow their industry to come together to set out to the government what they want to see happen.
If Irish farmers took a minute to examine how their French counterparts acted to support each other, they might well learn that United we Stand, Divided we Fall.
In the coming weeks and months Sinn Féin is hoping to kick-start this debate. A more problematic issue is how farmers across the island are represented. Big business often manipulates farmers on either side of the border against each other while internationally we are all seen as Irish.
A common agenda for Irish farmers, fishermen and rural communities is essential. There is strength in numbers. The coming together of the many disparate farming interests across the island will be of long-term benefit to rural communities currently shortchanged by selfish interests in Dublin, London and Europe. There is strength in unity.