15 September 2005 Edition
Barney McAleer - A tribute by Barry McElduff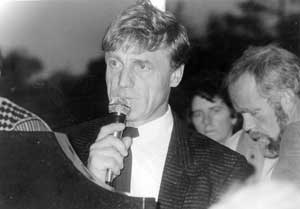 The death of prominent Tyrone republican Barney McAleer marks the end of an era in the county and his passing has pained very, very many people who had the privilege of knowing him or being his friend.
Barney McAleer served two terms as a Sinn Féin councillor on Omagh District Council and was aged 60 when he died in Belfast City Hospital, surrounded by his loving family, last Friday 9 September after a long illness.
Barney was married to Kathleen, (nee Donnelly) and was the father of Declan, Orla and Sheena. He lived in the townland of Oxtown between Loughmacrory and Mountfield and had a tremendous attachment to the place and people where he was from. Barney possessed a unique gift of connecting with people in a quiet, understated way, both young and old and this was reflected in the grief of hundreds of people who stood waiting for the return of his body to Loughmacrory around midnight last Friday.
Famous for Hospitality
The McAleer family home has always been famous for hospitality and for the incredibly warm welcome which is extended. The house was often raided by the RUC and often attracted the attention of the UDR and British Army.
Barney married Kathleen on 2 October 1971. In their 34 years of marriage, they were a great couple, great company for each other and to everyone else. They had been out together for six years before they were married.
It was a great comfort to Barney that Declan, Orla and Sheena, even as they got on with their own lives, were 'not too far away'.
Barney was very proud of Declan's political path and was instrumental in securing Declan's election to Omagh District Council in May of this year. Barney took care of the Mountfield end for Declan and for Sinn Féin.
The McAleers enjoyed a family holiday in Brittany just seven weeks before Barney died and he was a very proud man indeed to be formally received by Mayor André le Gac in Plougastel where he was taken to 'Jardin Bobby Sands.'
Huge Contribution to Freedom Struggle
As a Sinn Féin councillor, as a founding member of the Alice Milligan Cumann, recently elected Cathaoirleach of Mountfield Community Association, as an Easter graveside speaker, as someone who co-ordinated the local Hunger Strike commemorative programme in 2001, as someone who was ultimately loyal to the Drumnakilly Martyrs, it can certainly be said that Barney made a huge contribution to his community and to the struggle for Irish freedom.
Barney was a friend to the families of our patriot dead. He seemed to be a natural choice to chair potentially difficult community meetings and for all his reasonableness, Barney would reveal a steely determination to do what was right. He liked the fact that Alice Milligan was a Protestant poet from Mountfield who was also a dedicated Irish republican.
Thousands paid their respects
In the end, illness caught up with him and Barney slipped away. The funeral itself was massive. Led by a piper and accompanied by a Guard of Honour, all Irish-Ireland organisations were represented and the crowds could not be accommodated by St Mary's Chapel, Loughmacrory. The Kelly girls who went everywhere with him, Sorcha, Caoimhe, and Padraigín, made up their own special bidding prayers.
Sinn Féin President Gerry Adams missed the All-Ireland Hurling Final and came to Loughmacrory instead. Packie Coyle, his lifelong friend, played a few tunes including, The Galtee Mountain Boy and he concluded with Amhrán na bhFiann. His friends, John O'Brien and Pat Doherty MP presided at his graveside.
Looking back it is clear that Barney was indeed, as Pat Doherty said, a reference point and a port in a storm. He loved his family and community and they loved him. He was warm and full of integrity. He was a really sound man who had a great way with him. People are usually friends to few and acquaintances to many. Barney managed this the other way round. Barney was unique and made a connection with people.
Go ndéana Dia trócaire ar a anam úasal.