15 September 2005 Edition
Empowerment needed, not window-dressing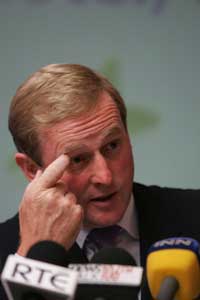 The media silly season this year has been followed by a political silly season as the establishment parties in the 26 Counties engage in various window-dressing exercises. In Cavan the Fianna Fáil Parliamentary Party threw a few shapes and made a few more promises. In Mullingar Enda Kenny and Pat Rabbitte nailed a flimsy plank to the rickety Fine Gael-Labour election platform. Then in Portlaoise and Dublin this week Fine Gael and the PDs gathered for the cameras.
Nothing can hide the fact that there is little real difference between the FF/PD combination and the FG/Labour one. All have pursued virtually identical policies when in government. Enda Kenny and Pat Rabbitte offer about as much alternative to the present Government as Tweedle-dum does to Tweedle-dee. Or should it be Tweedle-dumb and Tweedle-dumber?
The 'debate' descended to the level of farce as Fianna Fáil and Labour bickered over the mismanagement of the economy in the 1980s. Labour even cited the 1977 Fianna Fáil election manifesto. Someone should tell Pat Rabbitte that most people working in Ireland today were not even born in 1977. If this is the Labour leadership's strategy as they provide a leg-up yet again to the political anachronism that is Fine Gael, then ordinary Labour members and supporters would want to start asking Rabbitte very serious questions.
As Sinn Féin Dáil leader Caoimhghín Ó Caoláin said last week when the party's five TDs met in Leinster House, it is popular participation in bringing about political change that will yield real results. The frustration of people with the conservative political parties and their enthusiasm for a different kind of politics can be seen in the groundswell of support for the Rossport Five. It has been seen in the thousands who took to the streets to fight for a rights-based Disability Act. It was also seen in the huge numbers who took to the streets in anti-war demonstrations.
People deserve more in the run-up to the General Election than the argument that 'the other crowd have been in too long'. Republicans need to provide the vision, the strategies and the policies to truly transform Irish society.