15 September 2005 Edition
Nationalists targeted in Orange rampage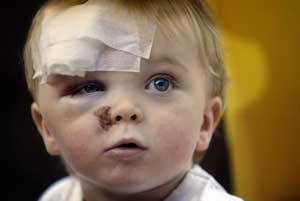 Amid an orgy of violence orchestrated by the Orange Order and unionist paramilitaries and spurious justifications provided by unionist politicians, attacks on the nationalist community throughout the Six Counties took on a new intensity.
Largely ignored by the media, which concentrated on the gun and bomb attacks aimed at the PSNI and British Army, a wave of sectarian attacks saw a man from Belfast's Short Strand fighting for his life after a horrific beating.
In the west of the city nationalist community workers, seeking to calm interface tensions on the Springfield Road were set upon by a 50-strong loyalist mob, while homes in the area were targeted.
Then as loyalist mobs went on the rampage on Saturday a nationalist family was dragged from their car by masked and armed men at Mount Vernon, a strong UVF area of the Shore Road in North Belfast. Fearing for their lives the family ran off as the unionist gang torched the vehicle.
In a second incident in the same area, also on Saturday, a three-year-old child was hit by a brick and suffered a fractured skull after his father's car was attacked.
Elsewhere in Belfast unionist gangs attacked nationalist homes with petrol and paint bombs.
Across the North Catholic churches were paint bombed and homes in Ahoghill, County Antrim again come under attack. In Magherafelt, County Derry up to 20 graves were desecrated at St John's Church.
Belfast
In the most serious attack, over the weekend, a man was left fighting for his life after being attacked by a gang of up to ten loyalists in the early hours of Saturday 10 September.
29-year-old John McKay was set upon as he walked home along a river path at the junction of the Albertbridge Road and Short Strand, East Belfast and sustained serious head injuries. His assailants made their escape along the loyalist Ravenhill Road.
On Wednesday 7 September, two nationalist community workers, Jim McBride and Tommy Farrell, were injured after a gang of 50 unionists confronted them on the Springfield Road as they monitored the Orange Order blockade of the road at around 5.30pm.
The men feared for their lives as they were kicked to the ground and attacked with beer bottles. Both were beaten about the head and sustained injuries to their arms, shoulders and backs.
On Saturday as rioting erupted on the West Circular Road, a 100-strong unionist mob from Sandy Row invaded the nationalist Grosvenor Road. They marched past Grosvenor Road PSNI Barracks unhindered before carrying out their attack and had to be chased back by residents.
Woman in her 70s attacked
In North Belfast a Catholic family had a lucky escape after their car was hi-jacked by unionist gunmen at a slip road on the Shore Road at around 7pm. Margaret Holland, who is in her 70s, told An Phoblacht how she was travelling with her two sons and eleven-year-old grandson Patrick, when two loyalist gunmen stopped and dragged her from the car. "We all thought we were going to be shot. They just started shouting at us 'get out, get out, we want your fucking car', it was very frightening."
Margaret, who suffers from a heart condition, said a crowd of about 30 men, all in balaclavas and scarves ran towards the car and her two sons and grandson were then dragged from the car while the PSNI stood idly by and watched their car being set on fire. "The PSNI were about 150 yards away but told us they couldn't leave their position."
The family will be making a formal complaint to the Police Ombudsman's Office.
Infant suffers fractured skull
A short time later, in the same area, a 22-month-old child suffered at fractured skull when his father's car was attacked by a unionist gang.
Robert Moore was trying to make his way onto the M2 motorway at Fortwilliam when his car was attacked. "Some people came out from over a wall and threw bricks at the car. The bricks came through the windscreen and two windows at the driver's side striking my son Caleb on the front of his head."
Moore said his son was screaming and there was blood everywhere. "All I could do was to keep driving and hope I wasn't driving into anything worse."
Caleb was taken to the Royal Belfast Hospital for Sick Children where it was discovered that he had a fractured skull.
Throughout North Belfast, on Saturday, at interface areas such as Alliance Avenue and Brookfield Mill in Ardoyne, sectarian mobs attempted to draw nationalist youths into confrontation by attacking nationalist homes and workplaces with petrol, paint and blast bombs.
In Ligoniel, also in North Belfast unionist mobs gathered at 5pm at Glenbank Road and bricked and paint bombed cars belonging to nationalists. Hand-to-hand fighting broke out after the loyalists surged up Ligoniel Road to attack nationalist homes. Houses in North Queen Street and Whitewell Road were also attacked by unionist gangs.
On Sunday 11 September homes on Serpentine Road were attacked with petrol bombs and stones by unionists from the White City area.
"Kill all taigs"
As a third night of unionist violence erupted across Belfast on Monday around 300 loyalists invaded sidestreets off the Springfield Road and attacked nationalist homes.
A number of windows were broken in the homes before residents drove the unionists back. One resident Louise O'Prey said the attackers were waving swords and machetes and shouting "Kill the Taigs".
O'Prey said she rang the PSNI at around 9pm and told them her home was under attack. "Nothing happened and I phoned again after ten minutes and this PSNI man I was talking to was really rude and told me he didn't understand why I was ringing him. I shouted back at him that there were loyalists coming up the lane and they had swords."
When the PSNI arrived she went out to tell them what had happened but they turned their riot shields on her and pushed her back into her house.
County Down
Sectarian graffiti was daubed on two Catholic churches in Banbridge in the early hours of Friday 8 September. St Patrick's Church on Dromore Street and on St Teresa's Church on the town's Scarva Road were targeted. Two church halls at both sites were also daubed with sectarian slogans.
County Antrim
Nationalist homes in Ahoghill's mainly loyalist Brookfield Gardens Estate were targeted by on Sunday 11 September. At least four houses had their windows broken.
Brookfield Gardens and other areas of Ahoghill near Ballymena have seen numerous sectarian attacks against the nationalist community in recent months with one woman fleeing her home after a campaign of intimidation.
County Derry
Around 20 graves were discovered desecrated at St John's Catholic Church at Milltown, near Magherafelt on Friday 9 September. Unionist thugs attacked headstones with red and white paint and scrawled obscene, sectarian graffiti on the nearby church.
St John's was re-opened 12 months ago after it was gutted in a loyalist arson attack in 2003.
In a separate incident graffiti was sprayed at Calvary Free Presbyterian Church at Mullaghboy Hill.
Lucky escape for Rovers' manager
Meanwhile, Roddy Collins, Manager of Dublin soccer club Shamrock Rovers and his wife were caught up in serious rioting in East Belfast on Sunday night 11 September.
Collins had to drive through a frenzied mob of loyalists carrying hammers, baseball bats and iron bars as he disembarked from a ferry in his Dublin registered car after catching the ferry from Stranraer.