15 September 2005 Edition
"Infantile" Orange Order response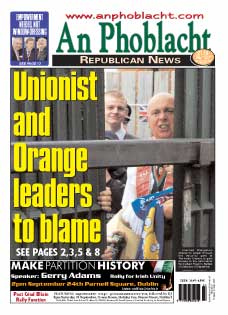 Despite the overwhelming evidence to the contrary the Orange Order has claimed that it was not involved in or responsible for the widespread violence that erupted throughout areas of the Six Counties after the Whiterock Orange parade was re-routed away from Workman Avenue on the Springfield Road on Saturday 10 September.
Echoing the views of Belfast's leading Orangeman Dawson Bailie who told a BBC reporter on Monday 12 September that he wouldn't condemn Saturday's violence, the Order's Grand Master Robert Saulters, , told a press conference on Wednesday 14 September that there was no evidence that Orangemen were involved.
In his remarks to the BBC on Monday afternoon Bailie said that as far as he was concerned, "the people to blame for that [Saturday's violence] are the Secretary of State, the Chief Constable and the Parades commission".
He then bluntly refused to condemn last Saturday's rioting that saw UVF and UDA gun and bomb attacks on the PSNI.
In a follow up wave of violence commercial property was targeted in arson attacks and buses were hi-jacked and burned.
In one incident a busload of pensioners returning to Bangor from a church event in the Waterfront Hall in Belfast was hi-jacked and the pensioners robbed by the unionist thugs involved. Nationalists and their property were also targeted in the sectarian onslaught.
Speaking at a press conference on Wednesday 14 September, after four days of silence, Belfast County Grand Master Saulters blamed the British Secretary of State, the PSNI and the parades commission for the trouble.
Saulters also trotted out the well-worn justification for the trouble saying that unionist communities were frustrated over deprivation and that the violence was, "a cry of desperation".
Reacting to Saulters' statement Sinn Féin General Secretary Mitchel McLaughlin said that the Orange Order must take responsibility for last weekend's violence. "The ambivalence, hypocrisy and double standards that unionist and Orange leaders have shown in recent days is astounding.
"The attempt of unionists and the Orange Order to try and blame everyone but themselves is infantile. It is time for it's political leaders to grow up," said McLaughlin before calling on the unionist leadership to, "engage and show positive leadership".