8 September 2005 Edition
Unionists walk out on missionary priest motion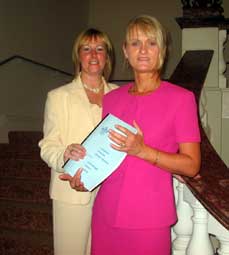 Sinn Féin Councillor Bernice Swift and party colleague Poilin Uí Cathain took the initiative in proposing a motion at Monday night's Fermanagh District Council Meeting in support of Father Gabriel Dolan, who is facing charges after his recent protest in Kitale, Kenya, demanding the repossession of grabbed land.
Both councillors were hoping to send a clear message to the Kenyan authorities that Father Dolan has the support of elected representatives of Fermanagh but unionist parties voted against discussing the matter. When the majority voted to hear the motion, the remaining unionist elected representatives left the chamber.
"It was disappointing that this show of contempt for a human rights issue concerning a native of Fermanagh was not worthy of unionist approval," said Swift.
"The injustice of the unequal land distribution in Kenya is a legacy of colonialism and imperialism," said Swift. "Their struggle for independence was based on a demand for land and freedom. While independence was won, land and liberation were not. We can relate and identify with the fact that no rights are achieved without a struggle and Father Gabriel's example is an inspiration to me and anyone else interested in human rights."
The motion was carried. It was agreed as a matter of urgency that Fermanagh Council write to the Kenyan Government, all relevant Embassies and government bodies in support of Father Gabriel and his family, requesting that all charges facing him are dropped immediately.