8 September 2005 Edition
School costs are crippling low-income families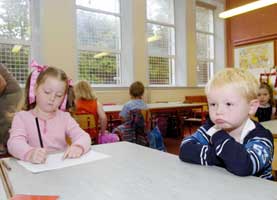 As the new school year begins, Donegal Sinn Féin Councillor Pearse Doherty says the government must address the costs associated of sending children to school, which is a major worry and burden to many parents of low-income families.
The last number of years has seen a steady increase in the costs associated with sending children to both primary and secondary school. The National Parents' Council has undertaken a survey of parents of national school children to monitor the cost of sending children to primary schools.
The survey shows that it costs on average €684 to send your child back to school and may reach as much as €3,512 per child, The major cost areas are schoolbooks, which can average €97 to a max of €400, school uniforms averaging €109 to a max of €450 (this does not include the school tracksuits which many schools now promote which can average €38 to €125, and trainers/runners which can cost on average €37 to a max of €130 which increases the uniform cost considerably). Other items such as football gear, and winter coats average €56 to a max of €250. School transport for many families can average €90 to a max of €450 in some cases.
"These figures clearly put an end to the myth that education is free," says Doherty. "The fact that a family with four children of schoolgoing age is paying on average of €2,736 per year to send those children to school in September with only a possibility of €320 in assistance from the government depending on means is a disgrace.
"The School Clothing and Footwear Allowances is a means tested allowance for parents that are struggling and entitles parents to €150 for a child attending secondary school and €80 for a child at primary school. There is no doubt that this allowance does not come close to meeting the costs associated w