8 September 2005 Edition
PSNI thuggery in Cushendall to be reported to Ombudsman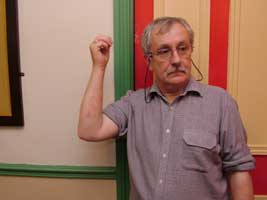 Glens Sinn Féin Councillor Oliver McMullan has said that he found it astonishing how the PSNI could find the resources to launch a full-scale assault on local people in Cushendall on Saturday whilst they couldn't find enough personnel to protect a handful of nationalist houses in Ahoghill.
His comments followed an attack on local people in the early hours of Sunday morning. McMullan also suffered injuries from the PSNI attack. "People here knew that there was something odd afoot when a number of unmarked PSNI cars were seen going through the town from 6pm on Saturday evening," he said. "Later, local people, of all ages, were getting something to eat after leaving the public houses in the town, as they always do, when PSNI members approached them with batons drawn and verbally insulted them. One PSNI member in particular went further than this and lashed out at a middle-aged gentleman, which started the disturbance.
"What followed then was what, in my opinion, the PSNI had set out to do in the first place. They batoned and attacked people with CS gas, regardless of both gender and age. They even sprayed CS gas into the face of a 14-year old who had only went to get chips from the shop."
McMullan praised local people who had to act with a lot of restraint in the face of this behaviour.
"What is quite clear this morning is that this community is totally united in the condemnation of the PSNI's despicable behaviour toward the people of this village," he said. "Many Cushendall residents, including myself, will be making complaints to the Police Ombudsman regarding this unprovoked attack and I will be asking that a full investigation be carried out right away."