8 September 2005 Edition
Can Irish republicanism be militant without being militaristic?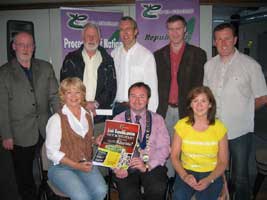 BY
MICK BEYERS
Research affiliate, Coiste na nIarchimí
Coiste Scoil Samhraidh
On Thursday and Friday 25-26 August, Coiste na nIarchimí, the national network for republican ex-prisoners, hosted its third annual Scoil Samhraidh at Tí Chulainn Heritage & Cultural Centre in South Armagh. Organised under Coiste's Processes of Nation Building programme, the theme of the school was Irish republicanism: Can it be militant without being militaristic? The premise could not have been more timely and lively discussion focused on the republican project and the next phase of the struggle ensued over the course of the next two days.
Pat McGinn, Sinn Féin councillor and Mayor of Newry and Mourne Council, formally opened the summer school and set the tone for the evening's discussion by stating: "I am a learner, I like to listen to debates and to be challenged." Reflecting on his political activism, Pat said: "I have always felt so proud to be a member of the republican family. I am very conscious of that tradition, of that integrity and of that courage." He added that he is always mindful of following "in the footsteps of many great Irish men and women, living and dead".
The history of the land was also to the fore, the rich cultural environment of the Ring of Gullion designated as an Area of Outstanding Natural Beauty (ANOB), a dignified symbol of the defiance that epitomises the most heavily-militarised area in Western Europe. The towers and surveillance apparatus are ugly infestations on a community that awaits their full dismantling.
Martin Ferris, Sinn Féin TD, was the keynote speaker for the opening session of the school. A senior republican, Sinn Féin Árd Chomhairle member and former political prisoner, Martin emphasised the adaptive and resilient nature of republicanism and considering the historic developments of recent weeks affirmed: "We have no fear that the IRA's decision to end its military campaign will result in the Republican Movement losing its militancy.
"We understand the opportunities the historic IRA decision gives to advance our goals and our political objectives. We are republicans. We are revolutionaries. We are committed to effecting social, political and economic change. We are viewed, rightly so, as a threat to the political establishment and the status quo. We are a thorn in their side. We are unrepentant, committed to equality for all the people of this island. We are not nationalists only, we are internationalists.
"We militantly hold these beliefs, whether engaged in campaigns of armed struggle, as we were in the past, mass mobilisations or electoral politics. We refuse to be categorised or limited by other definitions of militancy or militarism. Make no mistake, comrades, our collective past allows us to build and develop into a potent force for the future. That is why we are feared."
The summer school continued the following day, with morning and afternoon panels that featured republican activists including Sinn Féin's Conor Murphy MLA (standing in for Gerry Kelly MLA) and Mary Lou McDonald MEP, as well as Coiste Director Mike Ritchie. Pointed questions were debated, with the political analysis of veteran republican Tommy McKearney contributing to the issue of republican participation in policing and the issue of trade unions.
There was also an emphasis in the summer school on academic speakers. Rounding out the panel participants was Denis O'Hearn, lecturer at Queen's University and author of a biography on Bobby Sands due for release early next year. In addition to his academic work, Denis is especially interested in action-oriented community research and is particularly active in the West Belfast Economic Forum.
Also in attendance was political historian Margaret Ward, author of several texts on the theme of Irish women and nationalism, including Unmanageable Revolutionaries, which chronicles the role of women as an independent force in Irish politics. Offering another historical perspective was librarian John Gray from the Linenhall Library, which houses the Northern Ireland Political Collection, the richest depository of archival materials on the political conflict.
Rounding out the invited speakers was Agnès Maillot of Dublin City University. Maillot's painstakingly researched New Sinn Féin: Irish Republicanism in the Twenty-First Century is billed as essential reading for anyone with an interest in Irish politics and the Republican Movement in particular.
Coiste's Scoil Samhraidh had all the hallmarks of a typical republican event, with members of a vibrant, confident community gathered to discuss and debate openly aspects of their ideology and political culture. What is revealing is the natural model for self conduct evidenced here. The value placed on critical reflection and the concept of conscious debate of differences, limitations and strengths as pivotal to the improvement of the republican project.
At times there is a whisper that organisation leads to conservatism, that the militancy of republicanism could be consumed by the bureaucracy of government. This was something Conor Murphy referred to in his address to the school. So, how will republicans maintain a vibrant movement which challenges political apathy and the acceptance of existing social conditions? This is really a question of consciousness but as Martin Ferris contends: "The very fact that we are here, and debating internally, and articulating our respective positions is a militant form of struggle in itself."
Coiste hopes to continue with the summer school concept as an annual event and given the attendance at this one and the positive comments made by the participants, it's obvious that there is a eagerness for such an event -- an opportunity to reflect upon the past and debate the future.