8 September 2005 Edition
UVF riots expose PSNI double standards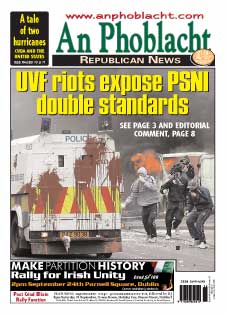 THE PSNI came under increasing political pressure this week after their apparent reluctance to confront continuing violence by unionist paramilitaries. In the face of serious rioting orchestrated by the UVF, PSNI officers remained in their vehicles rather than challenge the rioters. Commenting, Sinn Féin's Gerry Kelly compared the eagerness with which the PSNI deployed water cannon against North Belfast nationalists "within seconds of one golf ball being thrown" to the hours of unchallenged serious rioting by unionists.
Violence erupted onto the streets of Belfast on Monday around noon, following a number of raids in the Greater Shankill area after UVF gunmen appeared in the Shankill. The unionist paramilitary show of strength took place during a march in honour of sectarian killer and UVF member Brian Robinson at the weekend.
Four hours of rioting followed the arrest of a man in the Woodvale area after the discovery of a gun linked to a unionist paramilitary display that had accompanied Saturday's parade. A mob of over 100 youths pelted the PSNI with stones and petrol bombs in Disraeli Street, Parkview Terrace and Cambrai Street. Fire engines called to the scene were also attacked.
Vehicles were hijacked and set alight during rioting that lasted several hours. One hijacked vehicle, a Coca-Cola lorry, was looted before being burnt out. A gang of masked rioters smashed the lorry open and began to distribute the drink. Teenagers running with armloads of coke bottles and mineral water were seen passing the booty to adults who deposited the goods in houses and car boots.
Monday's violence was the third major incident to occur in the area within three days, including a riot involving a 50-strong mob in Enfield Street on Saturday night. The PSNI defended their lack of action, claiming that their decision not to deploy plastic bullets and water cannon (the latter was used eventually on one occasion) followed talks with community representatives.
The violence is being seen as orchestrated by the UVF in an effort to thwart further raids and arrests. Media reports claimed that teenagers were being actively encouraged to riot after receiving text messages on their mobile phones urging them to take part in further rioting.
Unionist paramilitaries have been blamed for a number of shootings at the weekend, including the shooting of two 21-year-old men in Tynan Drive on the outskirts of North Belfast and a similar gun attack the previous night in the Areema Drive area of Dunmurry.