25 August 2005 Edition
Fifth Column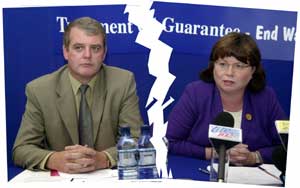 PD split on Colombia 3
IS THERE A SPLIT over the Colombia 3 in the Progressive Democrats, or just in what passes for PD Senator John Minihan's personality?
On 10 August, PD Leader and Tánaiste Mary Harney called on the Colombia 3 to present themselves to the Gardaí for questioning. Two days earlier, Minihan himself urged Sinn Féin to "reveal the whereabouts" of the men. But when the Colombia 3 answered Minihan's and Harney's calls only days later and did just what the PDs asked by actually presenting themselves at Garda stations, Moaning Mini denounced the move as "a carefully choreographed Sinn Féin publicity stunt"!
You just can't please some people.
Missing in action
WHERE, OH, WHERE are all those self-proclaimed, self-publicising opponents of paramilitary violence that used to haunt republicans over the past two decades now that we are in the midst of loyalist ethnic cleansing in Aghoghill, County Antrim and the UVF has declared that it is going to wipe out the LVF?
Where are Anne Halliday and Michael Nugent of the anti-republican front, New Consensus? And what about Chris Hudson, given an OBE by the British queen for being a go-between for the authorities and the UVF?
Where are you when unionist violence needs you?
General disgust
BRITISH SOLDIERS are the product of "a morally corrupt and dysfunctional society..." and whose role models are "foul-mouthed footballers". And that's just what their own officers think of them.
Major General Graeme Lamb DSO, former Commander of Coalition Forces in Southeast Iraq, told the top-level Infantry Conference at the Warminster British Army base recently that many recruits are "cocky and arrogant and brought up on a diet of football brats and binge drinking".
The general's disgust at his own rank and file was made evident in his speech to senior infantry officers, Operational Success — Strategic Failure, which said that increasing allegations of abuse of prisoners and civilians by British troops could undermine the occupation forces. Nearly 50 soldiers face prosecution for murder, assault and other offences in Iraq. More than 140 incidents are still under investigation since the Iraq War began in March 2003.
Whitehall's top brass are also worried by ongoing bullying within their ranks, sex scandals and the mysterious deaths by gunshots (suicides or murders?) of young recruits at the Deepcut military training camp.
What really worries Major General Lamb is the thought of the British Army losing its reputation as "a highly respected British institution" because of his new legions of lager louts "who are who are not educated in and able to recognise self-discipline". Not like the good old days and the self-discipline of the Parachute Regiment on Bloody Sunday, the Falls Curfew, Corporal Lee Clegg, Private Ian Thain, Guardsmen Fisher and Wright, the Force Research Unit and their agents in the UDA and UVF, the SAS, the UDR... when Major General Lamb was also a British Army commander in the Six Counties.
PSNI spit on Apprentice Boys
THE PSNI Police Ombudsman is to investigate a claim that a Peeler spat on one member of the Apprentice Boys during "a disturbance" (ie jeering between loyalists and nationalists) in Dunmurry, Belfast, last Saturday week.
Lisburn District Policing Partnership heard last week that an official complaint has been lodged and will be investigated with the full resources of the law to hunt down the suspected gobby Peeler.
PSNI Superintendent Mark Gilmore says: "If the facts are correct [aren't facts always correct otherwise they wouldn't be facts?] then he will be disciplined, make no mistake about it. He is not fit for service."
So that's what you have to do to get thrown out of the crown forces. Shoot your victims, even give their files to unionist murder gangs to do the deed but, whatever you do, don't spit on them.
CSI Miami it ain't.
A row in the town
DUNMURRY Apprentice Boys Secretary Cyril Jones had a curious take on the spit in the ranks.
"There could have been a real row but there were not enough police there to do anything about it."
So weren't we lucky that the PSNI didn't have the numbers to cause "a real row"?
Last Post
THE BUGLE will soon be playing The Last Post for itself as the British Army introduces an artificial version for its dysfunctional soldiers.
The Royal Regiment of Fusiliers (those ones with the cute red and white hackles on their berets) have bought a pretend bugle with an electronic synthesiser inside so you don't need a bugler to blow his own trumpet, just some Muppet to flick a switch to turn on a pre-recorded track.
Protecting their privates
TO TRY and prevent soldiers scratching their privates in their foxholes, the British Army has taken the wraps off its new secret weapon -- "sensible underpants for hot climates".
Iraq-bound Brits will now be kitted out in "combat underwear", the first British Army-issue smalls since the 1960s.
The head of military clothing at the Ministry of Defence, Colonel Silas Suchanek (we are not making this up), says:
"In the past, underwear has been treated as a personal item." Holding up a pair of the counter-revolutionary black trunk-style drawers, Suchanek pants: "These won't be compulsory but we think most people will be much more comfortable wearing them than not."
The pants have been made from an artificial anti-microbial fabric and have been treated with anti-bacterial agents to prevent infections. Yeuk!
Royal Changing Rooms
ONE SOLDIER whose crown jewels will be getting the royal treatment is the self-styled Prince Harry.
When Harold Wales gets back from his summer hols in a fortnight's time after shooting pheasants or peasants and counting Daddy's bulging royal purse in one of their many taxpayer-supported luxury homes, he'll be treated to a £100,000 (€147,000) makeover of his officer's quarters at Sandhurst Military Academy. His brother, William, will be joining him soon.
"The quarters were pretty worn and just not fit for royalty," a British Army flunky says. "The presence of two royals makes it important to create the right impression."
Terrorist arrest
A BRITISH SOLDIER was arrested last week "on suspicion of owning property that was to be used for terrorism".
Police say that the 23-year-old squaddie was arrested near Folkestone, Kent, by the Metropolitan Police Terrorism Squad at the same time as a house in Bradford was raided. A controlled explosion was carried out on a World War Two mortar bomb found in the house.
Police say that the countrywide operation was not connected to the recent attacks on London's transport system.
The British Army confirmed the arrest but refused to give any more details. The soldier was later released.
Security detail
GERRY ADAMS'S SECURITY came up during an interview with the prestigious New York Times this month:
NY Times: "Do you move around Belfast with a bodyguard?"
Adams: "Sinn Féin has its own little security arrangement, but it's basically friends and colleagues who drive us around. They're unarmed."
NY Times: "So how would you protect yourself in the case of an attack?"
Adams: "I would run very fast."