2 April 2012 Edition
No standards in high places
MAHON TRIBUNAL | THE TOXIC RELATIONSHIP BETWEEN BIG BUSINESS, DEVELOPERS AND THE POLITICAL CLASS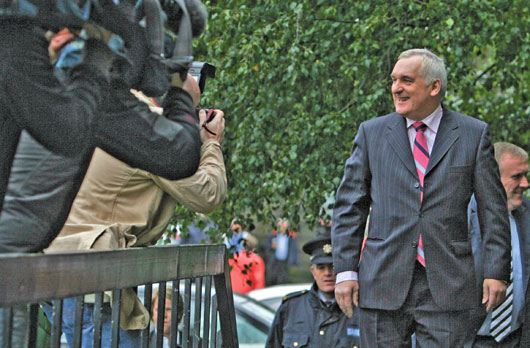 After reading Mahon, every politician should read again the words of the 1916 Proclamation
FIFTEEN YEARS and hundreds of millions of euro on, the Mahon Tribunal report is finally published. Its contents are shocking, scandalous, sickening . . . but not at all surprising. Corruption was rife in public life. Public representatives — from councillors right up to An Taoiseach — received unexplained, inappropriate or corrupt payments. The toxic relationship between big business, developers and the political class is laid bare — yet again.
You see, we've been here before. Just one year ago, another tribunal reported. The same culture of corruption was forensically unpacked in the Moriarity report. Predictably, the political class beat its breast, delivered long-winded speeches and then moved on.
The widespread public anger and cynicism about Mahon is driven in the first instance by the content of the report. The people were taken for a ride - most spectacularly by Fianna Fáil and their fellow-travellers in Fine Gael. However, the anger and cynicism runs deeper than the feeling of 'being had'.
The absence of any accountability, any consequences, any court dates for those who betrayed public office, is the deepest cut. It's a terrible vista. Big boys in high places beyond the reach of the law. Former ministers, a former Taoiseach still receiving state pensions having brazenly abused their office.
The democratic system in the South is broken and traumatised. The system operates in a culture of corruption and cronyism. The economic collapse is directly related to dodgy deals and backhanders among the back-slapping classes. Wrongdoers walk away scot free and the ordinary Josephine and Joe Soap are left to pick up the pieces.
We do not live in a Republic.
Having waded through the volumes of Mahon, every politician should read again the words of the 1916 Proclamation, the blueprint for the Irish Republic. It is a charter for equality, the collective good and a pluralist, inclusive politics.
The historic changes in the north of our country are unanimously lauded – and liberally claimed –by southern political figures.  Now the South must step up to the plate.