25 August 2005 Edition
Support continues to grow for Rossport 5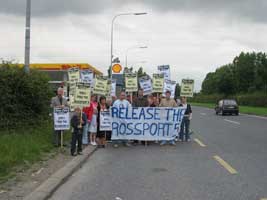 By
CATHAL Ó MURCHÚ
The Rossport 5 — Mícheál Ó Seighin, Willie Corduff, Brendan Philbin and brothers Phillip and Vincent McGrath, have now spent almost 60 days in jail. The issue continues to attract nationwide support and has now attracted international interest. In the past week, the Rossport 5 have agreed to speak to Shell representatives, but only on condition that they are released from imprisonment.
Protests, pickets, public meetings, exhibitions and marches continue to take place all around the country and a national rally is scheduled for Dublin on Saturday 1 October.
Norway
In Norway, home of the Statoil, a public debate has ensued as to whether the state-owned oil company should maintain its interest in the Corrib Gasfield given the opposition that has mounted in Ireland to the project. The bigger partners in the consortium, the privately-owned Anglo-Dutch company Shell, aren't burdened by such democratic public concern.
Nigerian parallels
Parallels have been drawn by Nigerian activists between the Rossport campaign and that of the indigenous Ogoni people in Nigeria who opposed the environmental destruction of their homeland by Shell ten years ago.
The Ogoni campaign reached a climax in 1995 when local activist, environmentalist and social campaigner Ken Sara Wiwa and eight others were executed on a false charge of murder by a Nigerian military tribunal. It was clearly in the interests of Shell to have had such a vocal and effective activist silenced, even though the company lamely called for clemency when his fate was already decided.
The Nigerian activists were targeted for standing in the way of a powerful multinational and the Nigerian Government was seen by many to have been "in the pocket" of Shell.
Owens Wiwa, the brother of Ken Sara Wiwa, this week called for the Rossport 5 to be released and said: "I am shocked with what is happening in Ireland. I can't see how five people can be jailed for defending their land and their communities." He further stated: "It just goes to show the power that transnationals have and the lengths they will go to deny people their earth-given rights."
Fermanagh protests
In Fermanagh a series of protests were held in several towns and villages around the county calling for the five men's release and for the demands of the Shell-to-Sea campaign to be implemented. A day of activities was held in Lisnaskea to highlight the issue where a considerable number of protestors took to the streets to mount a white-line protest. Fermanagh Sinn Féin Councillor Ruth Lynch said that the protest "was aimed at raising the issue in Fermanagh and we will continue to campaign on behalf of the Rossport 5".
Campaign making an impact
The high-profile campaign has clearly had an impact on Shell to the extent that the company announced that it will "suspend operations for a year and engage in a process of public consultations" with the community of Northwest Mayo. However, its record of "public consultation" leaves a lot to be desired given their previous practices in Nigeria, South Africa, Brazil, Russia, the Philippines, Curaçao and many other places as previously reported in An Phoblacht (14 July 2005). They have also indicated a willingness to talk to the Rossport 5. The five men in question have intimated that they will only talk if they are released from prison.
Protests at Statoil stations
The ongoing series of protests against Statoil and Shell Petrol Stations continues apace as next Friday multiple protests will take place throughout Dublin. This week it will be Statoil Service Stations that will be picketed in order to highlight the issue and also Statoil's involvement in this whole affair. To date these protests and pickets have enjoyed very good support from the public and passers-by have generally shown curiosity, interest and support for the campaign.
National Rally and Concert
October's rally in Dublin is expected to be a major mobilisation which will call for the release of the Rossport 5 and also for the implementation of the demands of the Shell-to-Sea campaign. The organisers are calling for trade unionists, political activists, environmentalists, farmers' organisations, community groups, student and university organisations, and other interested parties to become involved. On the following day, Sunday 2 October, a concert will be held in order to raise funds for the campaign. This will be held in Dublin's Ambassador Theatre and is expected to be a major event. Details of performers and musicians are yet to be finalised.
Shell-to-sea events
Fri 26 August
Picket of Norwegian Embassy, 34 Molesworth Street, Dublin 2. 12.30-1.30pm
Join the Day of Action Against Statoil: 5-6pm
(Contact the Dublin Sinn Féin Cúige office (8729004) to confirm what stations and locations involved)
Sat 10 September
Blockade of Clontarf Shell Depot, starting at 8am in the morning. Clontarf Dart Station.
Sat 1 October
National Shell to Sea Rally and march to Leinster House
Sun 2 October
Shell to Sea Fundraising Concert in Ambassador Theatre on O'Connell St.
Campaign Demands
The campaign wants the authorities and the State to:
o Stop all illegal development in Rossport
o To cease all operations in Erris, onshore and offshore, pending a full hearing of the issues
o Clean the gas and hydrocarbons at sea,
o Vindicate the Rossport 5 and expunge their criminalisation by Shell
o Renegotiate the overall deal for the Irish people
o Make those responsible for the project accountable, including calling for the resignation of Noel Dempsey, Dermot Ahern and Frank Fahey who have presided over this scandalous affair.
Donate to the Campaign at:
ULSTER BANK
Sort Code : 985314
Account No : 23987020
Bank ID : ULSBIE2D
IBAN : 1E74 ULSB 9853 1423 9870 20