25 August 2005 Edition
1916 headquarters to be re-evaluated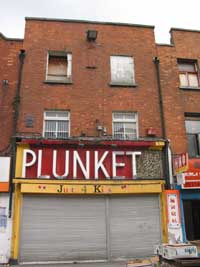 Number 16 Moore Street, the final headquarters of the Provisional Government during the 1916 Rising, is to be re-evaluated by Dublin City Council. The council is to have the building inspected by architects with a view to preserving it. The building is also to be inspected by a reputable urban historian.
The latest developments have come as a result of a renewed campaign to save 16 Moore Street which has deteriorated and is exposed to the elements. The council is embroiled in a legal wrangle over the building with the Carlton Consortium who control the building.
Damien Cassidy of the Save Number 16 Moore Street Campaign said: "The City Council has engaged a firm of architects and designers to do a survey of the property and to make recommendations to the City Council about the possible foundation of a museum there. The building is of enormous historic significance as it was the last refuge of the 1916 leaders. It is in a terrible state and in danger of further decline and vandalism."
Sinn Féin Dublin City Councillor Christy Burke spoke to An Phoblacht and said the city manager should be allowed to have the building inspected despite pending legal proceedings. Burke called on the government to seek from the British authorities, the original surrender notice written by Pádraig Mac Piarais so that it could be displayed in a future museum at 16 Moore Street, just yards from where the surrender took place.
Fellow Sinn Féin City Councillor Larry O'Toole added that "the major hold-up at the moment is the pending case in the Supreme Court between the City Council and Carlton Consortium and this is delaying any necessary work on the building. One has to question if this is a deliberate ploy by the Carlton Consortium to allow further dereliction and dilapidation."
Over the last two years, the physical state of 16 Moore Street has declined rapidly as over half of the roof tiles have blown off. Campaigners believe that structural damage may be considerable and that the building has suffered badly from vandalism.