25 August 2005 Edition
Creggan honours finest and bravest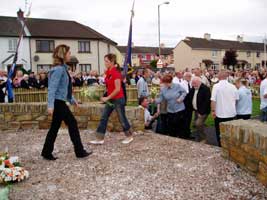 Sinn Féin's Martin McGuinness MP unveiled an impressive new monument in memory of fallen IRA Volunteers and republican activists from the Creggan area of Derry last weekend.
The Sinn Féin Chief Negotiator delivered an oration at the ceremony on Sunday 21 August in which he said that it was important that the Volunteers of Óglaigh na hÉireann and republican activists should be remembered for what they were — ordinary men and women who, when called upon, made extraordinary sacrifices to free their country from the yoke of British occupation and to complete the journey begun by patriots such as Emmett, Tone, Pearse, Markievicz and Connolly.
McGuinness said that those being commemorated were not born into conflict but like so many of their contemporaries came to the realisation that they could not realise full civil and human rights without full national rights.
"They witnessed the violent reaction by the state, firstly the unionist regime at Stormont and subsequently the British state itself, to the simple demands of the Civil Rights Campaign.
"Hard decisions were forced on their generation here in the North of Ireland — would they accept passively as the previous generation had done, the position of second-class citizens in our own country, or assert our right to justice, equality and peace through armed resistance?
"Many at the time, including those Volunteers and activists remembered on this magnificent monument, took a conscious and courageous decision to oppose British occupation by either joining or actively supporting Óglaigh na hÉireann.
"Although massively outnumbered and faced with forces equipped with much superior firepower these Volunteers and their comrades fought the might of the British Army and other state forces to a standstill for over 30 years.
"It was their dedication, tenacity and sacrifice that enabled the republican leadership to bring the British Government to the negotiating table. They helped create the conditions whereby we can hopefully bring this conflict to a successful conclusion through purely peaceful and democratic means. Through their actions and sacrifices the conditions were created in which the leadership of the IRA were able to make their momentous announcement on 28 July."
McGuinness said that "the true monument that we must build to the memories of those remembered with pride here will be concluding this struggle and building a 32-County, sovereign, independent Ireland of equals, without losing any more of our finest and bravest Volunteers and activists."