25 August 2005 Edition
Joe Cahill - a 'giant' of Irish freedom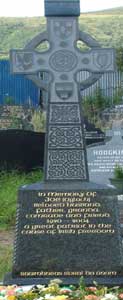 A monument to the late Joe Cahill, former Honourary Vice President of Sinn Féin and life-long republican activist was unveiled at Milltown Cemetery, Belfast on Sunday 21 August.
Many of Joe's comrades and friends gathered for the ceremony which was addressed by Deirdre Whelan from Dublin. In her her opening remarks she especially thanked Dickie Glenholmes and Dessie Kennedy who she said had made the day possible.
Deirdre Whelan told those gathered that they were paying a tribute to someone who will be for years a shining example of what republicanism is all about. Joe Cahill had given all of his life to the cause of Irish freedom.
She went on to say: "He dearly wished to live in a united Ireland, while it didn't happen when he was alive, he certainly ensured that the groundwork has been laid to ensure that you and I and future generations will live in that 32-County Ireland.
"Joe will live long in our memories. He was involved in every avenue of republicanism. He finished out his days as Honourary Vice President of Sinn Féin, a title that he carried with pride and was well-deserved. No task was too big or too small for Joe. Whatever was asked of him, he carried it out diligently. He is an example to all of us and we should leave here today mindful of the sacrifices Joe and his family made for you and me and commit ourselves to work harder than ever to reach our goal.
Joe was involved in organising the Wolfe Tone Commemoration which takes place in June of each year in County Kildare. If you do one thing to honour Joe Cahill, come to Bodenstown next year.
"He was also one of the driving forces in the prisoners' aid organisation An Cumann Cabhrach. Another worthy cause you can support in memory of Joe.
"There have been many giants along the way in the struggle for Irish freedom — Wolfe Tone, Pearse, Markievicz, Tom Williams, Bobby Sands, Mairéad Farrell. Joe Cahill ranks among those giants and will go down in history as a major influential, dedicated committed Fenian. An unrepentant freedom fighter who gave his all. We will never forget you Joe and you will be known for generations to come. Your family must be so proud.
"I urge you all to go from here today and aspire to in some small way mirror the life of Joe Cahill. Examine your conscience. Ask yourself are you doing enough. If not, do more. If you think you are doing enough ask yourself what is enough, do more.
The road to freedom is not an easy one and this struggle has gone through many phases. Joe Cahill was through them all. He gave his unyielding loyalty to the leadership of our struggle. We should all do likewise.
"In the words of Sinn Féin President Gerry Adams: 'At times of great upheaval and change within republican activism, Joe Cahill was a steadying influence, mindful always of the primary imperative and objective of republican struggle — the liberation and empowerment of the people of Ireland.' With those words in mind let us all endeavour to fulfil Joe Cahill's dream."