25 August 2005 Edition
Slum Ireland returns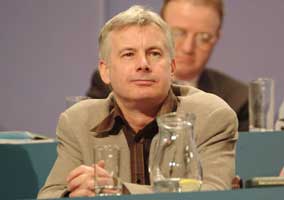 By
ROBBIE SMYTH
Crowe calls for end to government inaction
Windowless bedrooms, mould on the walls, vermin infestation, flats without hot or even cold running water, its not Dickens' London but increasingly is the scenario confronting tenants in Ireland's rented sector.
Threshold, the national housing association, published its annual report this week and their findings don't make good reading. The number of calls reporting problems to the organisation increased by 36%. They dealt with 20,601 people in 2004, while the Dublin Government's own inspectors found that over 30% of rented properties they visited were below minimum standards.
Sinn Féin Housing spokesperson Seán Crowe TD called for an increase in the amount of inspections, with greater resources given to local authorities to carry them out. There are over 150,000 rented properties in the 26 Counties, yet last year only 7,232 were inspected.
Crowe said he was concerned that, "the Government has become complacent in relation to the private rented sector and have taken their eye off the ball". The rented sector is he said, "still plagued with serious problems".
Illegally evicted
For example the Threshold report showed that in 2004 there was a 41% increase in the number of people who had been illegally evicted and a 44% increase in the number who had been refused the return of their deposits.
Crowe added that: "Last week we had the revelations, that the failure of landlords to refund deposits was the single biggest cause of complaints brought by consumers in the Small Claims Court last year."
Threshold Chairperson Aideen Hayden said the government must tackle the issue of accommodation quality, "particularly at the lower end of the market".
Hayden said: "It is totally unacceptable that people are forced to live in windowless flats, sleep in bedrooms covered in mildew or make do without hot running water. We also have to ask is it acceptable that in this day and age people are expected to live in one room with a toilet opening off it, and that room is their kitchen, living room, dining room and their bedroom?"
The failure of planning policy was also highlighted by Hayden who said: "Planners are approving buildings that may suit the needs of young, single, urban dwellers, but are completely inappropriate for family living.
Apartments are not designed with children in mind. Living spaces are cramped with no play or study areas. Hayden said that while the 26 Counties is following a European model of apartment dwelling, they are not following the standards of amenities that make communal living possible. This is particularly important for people on low incomes living permanently in rented accommodation.
Hayden warned that from their work on the ground, they are "deeply concerned that many inner city developments are becoming slums of the future. The government need to act urgently to make sure we are not putting in place slum clearance programmes like the Ireland of the 1930s and 1940s in the Ireland of 2010."