25 August 2005 Edition
Houses damaged in Ardoyne barrage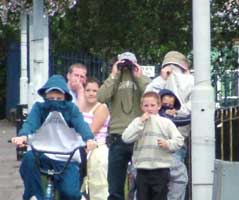 Crossbow fired at residents
Residents of Ardoyne in North Belfast once again came under attack from sectarian gangs from the Glenbryn Estate this week. Two houses and a car were damaged in the attacks.
The trouble began at around 10pm on Monday 22 August when a crowd of loyalists gathered at the junction of Alliance Avenue and Deerpark Road. Two houses were extensively damaged with paint bombs, which the loyalists had by the crateful. Residents and community representatives quickly turned out to offer aid and support to those living in the area. Sinn Féin Councillor Margaret McClenaghan told An Phoblacht how the PSNI arrived and confiscated the crated paint bombs and drove off in the direction of Glenbryn. They then returned to the scene of the attack and asked local representatives including Councillor McClenaghan what was happening, now claiming to have no knowledge of the paint bombs.
"This has made local residents extremely angry," McClenaghan. The lack of trust people in Ardoyne have for the PSNI has been totally understandable in light of the attitude of that body towards them. This action and the lack of any recognition of the rights of the residents of Ardoyne puts the PSNI as far away as ever from being an acceptable police service in this part of Ireland.
During the attack a crossbow bolt was fire at the Ardoyne residents. Councillor McClenaghan has again expressed her concern in the strongest possible terms. "If something is not done to calm the situation someone is going to loose their life. Representatives from both communities have an obligation to engage constructively to bring this volatile situation to some sort of resolution".
There was further attacks on Ardoyne on Tuesday 23 August. A car in Somerdale Drive off the Crumlin Road was destroyed by a petrol bomb. The owner has had his house attacked on five previous occasions. The house next door was also attacked with paint bombs at the same time. The attackers were seen fleeing in the direction of Glenbryn.
As An Phoblacht goes to press there has been a further set of attacks on homes in the area. On Wednesday, two houses at the junction of Alliance Avenue and Ardoyne Road were attacked with paint bombs. The residents had been up the entire previous night, trying to keep young people away from the interface area — scene of the infamous Holy Cross school protest in 2001.
Leading loyalist Jim Potts was among the crowd gathered at the entrance to the Glenbryn Estate just after the attack was carried out — binoculars in hand as he scanned nationalist residents (above).