18 August 2005 Edition
Fifth Column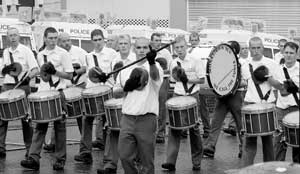 No uniform reaction
IAN PAISLEY JUNIOR complained to the PSNI that some marchers at this month's Ballymena anti-Internment parade, which wasn't organised or supported by Sinn Féin, wore paramilitary uniform.
Only last week, ahead of the parade, Paisley gloated: "It puts a wry smile on my face that republicanism is out of control in my constituency." This week, he changed his tune.
"It is not acceptable for people to make these paramilitary displays, and if they did they should be prosecuted."
The Boy Paisley is not, however, up in arms over the wearing of pseudo-military uniforms at a parade in Derry last Saturday. They were worn by bands supporting the unionist Apprentice Boys, of course.
RIR gag
FERMANAGH/SOUTH TYRONE Ulster Unionist Assembly member Tom Elliott has declared that he wants to be the mouthpiece for UDR/RIR gunmen gagged by British Army rules from talking to the media.
Tom spent nearly 20 years in the UDR. He's miffed that the UDR's successor is to be consigned to the dustbin of military history and now he wants to be the regiment's 'Deep Throat'.
This comes in the week that "a number" of Tom's old comrades in the UDR were being questioned about the UDR's role in the loyalist murder of Derry GAA official Seán Brown in 1997, and while unionists celebrated the role of UVF/UDR members in the Miami Showband massacre with a new loyalist mural.
On these UDR issues, UUP man Tom had no comment.
Party games
ONE VOICE that Ian Paisley Junior doesn't want to be heard is that of a PSNI officer accused of chanting IRA slogans.
PSNI supremo Hugh Orde has confirmed that a peeler is facing a misconduct charge after "a pro-republican outburst" at a staff party.
Paisley Junior was in no party mood when he heard of the incident. "There must be the most severe penalty," little Paisley thundered, obviously lamenting the abolition of capital punishment. "Any fraternisation between terrorists and police officers cannot be tolerated."
Fraternisation between the DUP and police officers with the UVF and the UDA on parades forums or during UVF evictions of the LVF are okay, though.
FG not keeping mum
A DUBLIN Fine Gael councillor who is the single parent of four children has been effectively thrown out of the party after failing to turn up for the election of the Mayor of Dublin last month.
Councillor Níamh Cosgrave has been the target of a whispering campaign by Blueshirts highlighting her two rental properties in France, which Cosgrave says is her only income apart from her councillor's salary. And when she missed the Dublin City Council meeting to elect a new mayor (which Fine Gael won with the backing of the Labour Party), because two of her children were ill with chickenpox, Cosgrave had the whip withdrawn.
She's keeping mum about her next move.
Movie history
"IRA REWRITES Ulster film script," a News Letter headline screamed this Monday about a Hollywood movie now being shot on location in Belfast.
Is P O'Neill branching out? No. The News Letter's point was that the script of King of Nothing, starring Martin Sheen's younger brother, Joe Estevez, and Rod Stewart's ex-wife, Rachel Hunter, has had to be hastily re-written to take in the IRA's dramatic declaration about the ending of its armed campaign.
Not so much "re-writing" a film script as writing history.
Naked force in Emmerdale
A BRITISH POLICE snatch squad pounced on three people who walked into a quiet Yorkshire Dales village shop at Monday lunchtime last week with bulging rucksacks — and nothing else.
The three stocking up on bare essentials for their dally in the Dales were the so-called 'Naked Rambler', former Royal Marine Commando Stephen Gough; his girlfriend, Melanie Roberts; and "an unnamed male librarian".
As the three emerged from the Co-op Late Shop in Gargrave, clutching their drinks and crisps, they were grabbed by the Bobbies. The trio was whisked off to police cells in Skipton.
The group set out in June, intending to walk the 874-mile length of Britain to raise awareness and make nudity more acceptable to the public. We're not sure if the DUP's most famous frolicker in the forest, naturist Sammy 'Woody' Wilson, is a member.
Consumer complaint
CONSUMER CRUSADER and critic of the Fianna Fáil/PD coalition Eddie Hobbs is the subject of a complaint about his acclaimed new RTÉ TV show, Rip-Off Republic. The complaint comes from a member of the station's governing body, the RTÉ Authority, Stephen O'Byrnes.
O'Byrnes used to be the general secretary of the PDs and once stood as a Euro candidate. He is a government appointee to the authority. The former PD media man wasn't talking about the exact nature of his complaint but FF and PD Ministers are said to be spitting about Hobbs's calls for consumers to take direct action. In his first programme, Hobbs urged every viewer annoyed at the cost of nappies to send one (unused, of course) to Enterprise, Trade and Employment Minister Micheál Martin.
White lie
A BRITISH NATIONAL PARTY member was so embarrassed by his arrest at an English Channel port that he told his pals in the neo-Nazi BNP that he was a drugs smuggler — in fact he had been caught smuggling illegal immigrants into Britain.
Ben Boylen (27) had an Albanian woman inside his car and two of her children hidden in the boot when he was stopped by immigration officials driving off a ferry at Dover, Kent.
Boylen has pleaded guilty to smuggling in three Albanians after initially claiming that he was just giving the woman a lift. He told officers: "Why would I do this? I'm a member of the BNP and I don't agree with illegal immigrants coming to this country."
Officers stopped Boylen in a Peugeot 205 in December last year. They became suspicious when the woman did not speak any English but was holding a British passport. When they checked, they discovered the passport belonged to Boylen's wife, who looked nothing like the distraught asylum seeker. They opened the boot and found the woman's two children, aged five and seven, huddled inside.
Boylen is being sentenced this month. It's not known if he's still a member of the BNP
Police protection
LONDON'S Metropolitan Police Authority has applied for a Europe-wide trademark protection for the Metropolitan Police name and badge on 23 types of goods and products.
The items covered range from helicopters to piggy banks.