18 August 2005 Edition
1916 Headquarters in perilous state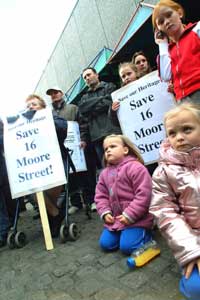 By
CATHAL Ó MURCHÚ
That the 26-County state shows scant regard for national historical monuments cannot be a cause of surprise given its poor record going back as far as the desecration of Wood Quay, the site of an historically important Viking settlement.
The current Fianna Fáil/PD Government in particular has pursued a reckless policy towards heritage and conservation with the ploughing of motorways through the Glen of the Downs, Carrickmines Castle and the internationally important Tara/Skryne Valley.
The latest heritage crisis gradually gaining attention surrounds the shameful neglect of 16 Moore Street, just off Dublin's main thoroughfare of O'Connell Street. This building was the headquarters of the Provisional Government during the 1916 Rising, an event to which the very state owes its existence. During Easter Week 1916, when the Irish Republican Army held out against British military bombardment of Dublin, 16 Moore Street acted as the nerve centre of the Irish Republic.
Anger has now been voiced at the perilous state of the building and the fact that the contingencies of private capital in the ongoing re-development of the north central city area have been elevated above the preservation of this vitally important historical building.
A campaign around the issue of saving 16 Moore Street from demolition or destruction by neglect has been fought for some time now. Two years ago an order was made preventing the demolition of the building. Sinn Féin Dublin City Councillor Larry O'Toole has been central to the campaign from the beginning. In 2003 a Sinn Féin motion, with cross-party support, was passed by the City Council declaring that the Council wished to see the building preserved and renovated as a museum and to act as public information and education centre.
This week Larry O'Toole told An Phoblacht that the campaign is bWas in Belfast, and who is a Godson of one of James Connolly's grandchildren also lent his support to the campaign this week.
Also speaking out on the issue this week Professor Dermot Keogh of UCC's History Department said: "If we don't preserve this building or at least have an informed debate about its preservation, we may have reached a point in this country where we have almost lost our sense of shame."
Meanwhile a spokesperson for the 26-County Environment Minister Dick Roche, who is on holiday in Slovenia, claimed the Minister wanted to see the building preserved.