18 August 2005 Edition
Shell refuses to lift injunction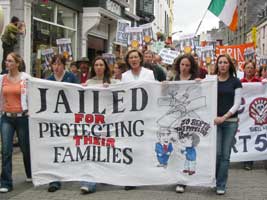 and because of growing support for the demands of the Shell to Sea campaign, Shell last week launched a PR exercise. On Friday 12 August the company addressed a letter to every Mayo county councillor in an attempt to persuade them of the innocuous nature of the work it proposes.
Council Meeting
The Shell initiative fell on its face at a meeting of Mayo County Council when Ed Moran and Mark Garavan, spokespersons for the campaign, addressed the council and refuted every claim made by Shell in their letter to councillors.
Ed Moran dealt in great detail with Shell's utterly misleading claims and most especially with their argument that there is a shut-off point on the on-shore pipeline if the pressure exceeds 135 bar.
Apart from the fact that 135 bar pressure is itself a dangerous level, Moran pointed out that what happens if the pressure exceeds the shut down point is that the gas must be flared off and released into the atmosphere at 500 degrees centigrade, with all the impurities and chemical additives that the uncleaned gas contains.
At a previous council meeting there was extraordinary scenes when a resolution calling for offshore processing was passed unanimously by the council only, four hours later, to be disallowed by the Council Chairperson Henry Kenny on grounds that it had not been properly put. Kenny is the brother of Fine Gael leader Enda Kenny brother.
This time the council rejected a motion proposed by Tim Quinn (FF) and seconded by Sinn Féin's Gerry Murray, that the gas should be refined offshore. The vote was 13 to nine. Six of the Fianna Fáil councillors absented themselves from the council for the vote. The six Fianna Fáilers who were present voted for the resolution in contradiction of the stance taken by Fianna Fáil Government Ministers who can actually do something about the situation.
The council's legal adviser Michael Browne argued that it was illegal to put the resolution because it contravened the development plan. His advice was rejected after Gerry Murray of Sinn Féin pointed out that the development plan spoke only of a 'terminal' at Bellinaboy, and not a 'refinery'. It was an important distinction. The motion was allowed and this time the Mayor did not attempt to subsequently rule it out of order.
Campaign letter
Hotfoot that evening's on local radio broadcasts Shell was back, asking residents of Rossport and the campaign to allow Shell five to six weeks to work on the site, for the purpose of environmentally cleaning it up, while works are under suspension. An extraordinary request at any time from Shell, which is not noted for its environmental concern.
The campaign, on behalf of the prisoners, replied on Monday 15 August with an open letter:
"To date the dealings of the Irish government in this project have seen our land rights given to a private company, our families and neighbours' very lives endangered and the natural resources of the Irish people given away."
The letter goes on to point out that the Norwegian people, through their state-owned company, Statoil, (with a 38% holding in the Corrib) will receive more from this project than the Irish people who have zero holding in the Field.
"The national interest is a myth that has been fabricated by the Irish government and their partner Shell. The Minister Noel Dempsey and his department are not and have never been innocent bystanders in this crisis but have played a full role alongside Shell in its creation. Despite all of this, we, in good faith, acknowledge the attempts of Shell and their government partners to create a period of calm by halting work and calling for dialogue. We wish to accept the offer to enter into talks and to that end we ask Shell and their government partners to immediately stand down their injunction at this time so that we can leave prison to attend these talks".
Shell has refused to stand down the injunction citing 'strong legal advice'. However, Shell can withdraw legal proceedings at any stage, including legal proceedings which gave rise to the injunction.
Why not lift injunction?
Shell's refusal to lift their injunction is indication enough that their approach is to lock up the very people with whom they need to dialogue. Opinions vary concerning Shell's apparently incomprehensible reluctance to lift the injunction. It is argued that Shell does not want to have to pay compensation for wrongful imprisonment, or misleading the High Court, in the first instance, in applying for the injunction. Others suggest it is merely typical of Shell's behaviour, as evidenced worldwide, an attitude of contempt for opposition and an inveterate intransigence in their pursuit of corporate and financial gain.
Some campaigners have suggested that Shell refuses to lift the injunction because they wish to punish those who have challenged their assumed authority to do whatever they like, with the lives, lands and livelihoods of those who are in their way. Whatever the reason, the Rossport 5 have entered their seventh week in jail.
Shell-to-sea events
Thur 18 August
Rossport 5 Fundraiser, Traditional Concert, Doolin, County Clare
Fri 19 August
Demo in Trim (home-town of Minister of the Marine Noel Dempsey) from 6-7pm at the traffic junction in Trim as you go on to the road to Navan. Organised by Meath Sinn Féin. Contact Sinéad @ 086-1617999 for details.
Weds 24 August
Public Meeting: ATGWU Hall Middle Abbey St at 7.30pm. Organised by Dublin Shell to Sea.
Speakers: Representatives of the family and Campaign Journalist Fintan O'Toole. Representatives of SHELL and the Dept of Marine have been invited to send representatives.
Fri 26 August
Picket of Norwegian Embassy, 34 Molesworth Street, Dublin 2. 12.30-1.30pm
Join the Day of Action Against Statoil: 5-6pm.
(Contact the Dublin Sinn Féin Cúige office (8729004) to confirm what stations and locations involved)
Sat 10 September
Blockade of Clontarf Shell Depot, starting at 8am in the morning. Clontarf Dart Station.
Sat 1 October
National Shell to Sea Rally and march to Leinster House
Sun 2 October
Shell to Sea Fundraising Concert in Ambassador Theatre on O'Connell St.
Donations
The legal costs of the campaign in support of the five men in jail are huge.
Send donations to:
ULSTER BANK
Sort Code: 985314
Account No: 23987020
Bank ID: ULSBIE2D
IBAN: 1E74 ULSB 9853 1423 9870 20