18 August 2005 Edition
UTV apologises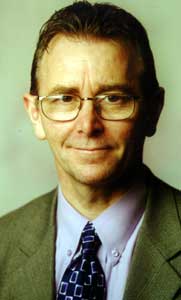 Sinn Féin's Michael Ferguson has welcomed a public apology broadcast by UTV news in which the station admitted that a statement attributed to the West Belfast MLA had been "inaccurate" while apologising "for any distress or confusion caused".
The apology followed reports concerning a brutal attack on a group of teenagers in the Blacks Road area of West Belfast which has sickened the entire community. During the attack a 15-year-old girl was repeatedly raped and her companions beaten and robbed by two assailants.
In an unprecedented move, UTV issued the apology after its news coverage of the incident misrepresented Sinn Féin's position by claiming that the Sinn Féin MLA had told people not to come forward as witnesses.
In fact Ferguson, a local councillor for the area in which the attack took place, was not only the first political representative to be in contact with the families of the victims, but also immediately called for witnesses to come forward in support of the victims and their families.
During an interview with UTV the Sinn Féin MLA called for people to come forward with any information. Questioned by the interviewer about Sinn Féin's current position on policing, Ferguson pointed out that there were well-established mechanisms for people to come forward who did not want to deal directly with the PSNI.
In what can only be described as a manipulative and disingenuous piece of journalism, during a subsequent interview with the Belfast Rape Crisis Centre a UTV journalist asked Eileen Calder to comment on what was claimed to be a statement from Sinn Féin that witnesses or anyone with information should not come forward.
Despite the totally spurious nature of the question, it predictably provoked an immediate, hostile response. The subsequent media fallout culminated in a death threat against the Sinn Féin MLA from a caller broadcast live on BBC Radio Ulster. But more significantly, in what was already a serious and volatile situation, it created confusion within the community in which the attacks had taken place.
"Of course Sinn Féin was working very hard on the ground facilitating community support for the victims and their families while encouraging people to come forward with information which would ensure successful prosecutions of those responsible," said Ferguson.
"But needless to say this was never reflected in the media. Instead of dealing with the issue — a very serious issue concerning a brutal attack and rape, sections of the media were more concerned with creating conditions favourable to our political opponents."
In the apology UTV admitted that the statement attributed to Michael Ferguson "did not reflect Mr Ferguson's stated position of calling for anyone with information on the Black's Road rape to come forward. We apologise for any distress or confusion caused."