18 August 2005 Edition
Creggan Spirit of Freedom Weekend
As part of Sinn Féin's Céad Bliain celebrations the Eamonn Lafferty Cumann in conjunction with the Creggan Volunteers Memorial Committee have organised a weekend of events to celebrate Irish republicanism.
Beginning with a wreath-laying ceremony at the spot where Eamonn Lafferty was shot 34 years ago it will culminate in the unveiling by Martin McGuinness of a new monument dedicated to the memory of Creggan republicans who have fallen throughout the struggle.
The many events will include a celebration of culture in the Creggan area and with sport, drama, history music and craic. The event is aimed at republicans young and old as well as recalling the memories for many of the sacrifice of the republican people. It will also provide an insight into our history for the younger members of the community.
Programme of events
Thursday 18 August
o Volunteer Eamonn Lafferty 34th anniversary. Wreath-laying ceremony in Kildrum Gardens were Eamonn fell followed by Memorial Lecture.
Friday 19 August
o Volunteers Danny Doherty, Willie Fleming, Ciarán Fleming, Antoine Mac Giolla Bhríghde Memorial Cup. Gaelic Football Match between Creggan Volunteers Memorial Committee and Waterside Volunteers Memorial Committee. Seán Dolan's GAA Club @ 7pm
o Michael Friel Memorial Fund Charity Night: Telstar [email protected] 9pm. Entrance fee £3 Monies raised have kindly been donated by the Friel family to the Spirit of Freedom Flute Band and the Creggan Monument Committee.
Saturday 20th August
o Tour of Plaques that mark the spot where IRA Volunteers died in action beginning at 3pm bottom of Southway. This tour will visit the spots where Volunteers died in action where their story will be told by close friends and comrades.
o George and Pop Memorial One-day Football Tournament. 6pm, Bishops Field. Knock out soccer competition. No power houses.
o The Real Story of the1983 Long Kesh Breakout by Gerry Kelly, Bik McFarland and Bobby Storey in their own words and with visuals. Seán Dolan's GAA Club 9pm. Entrance £5.
Sunday 21 August
o Band Parade & Competition departs Beechwood Shops @ 3pm. Parade through Creggan to the Seán Dolan's GAA Club.
o Laughter of Our Children' fun and games for the children Bishops Field 3-5pm.
o Unveiling and Dedication of new Republican Monument by Sinn Féin Chief Negotiator Martin McGuinness MP MLA @7pm.
o Final of Volunteer Ethel Lynch Cup in Bishop's Field followed by Presentation in Creggan Community Centre @ 9pm. Music by Shebeen. Bar Facilities
An Phoblacht Magazine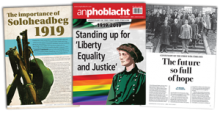 AN PHOBLACHT MAGAZINE:
Don't miss your chance to get the first edition of 2019 published to coincide with the 100th anniversary of An Chéad Dáil and Soloheadbeg.
In this edition Gerry Adams sets out the case for active abstentionism, Mícheál Mac Donncha takes us back to January 21st 1919, that fateful day after which here was no going back and Aengus Ó Snodaigh gives an account of the IRA attack carried out on the same day of the First Dáil, something that was to have a profound effect on the course of Irish history.
There are also articles about the aftermath of the 8th amendment campaign, the Rise of the Right and the civil rights movement.