2 April 2012 Edition
Start the fightback for rural Ireland
SINN FÉIN LAUNCHES NEW CAMPAIGN FOR THE COUNTRY | 'LOVE RURAL IRELAND'

Our campaign aims to galvanise the talent and energy that exists in rural communities and turn it into a force to be reckoned with
RURAL IRELAND is under attack. The policies of austerity are stripping local communities of essential services — of schools, of guidance counsellors, hospitals, post offices and Garda stations.
The Government is also adding new stealth taxes like the Universal Social Charge, the Household Charge, VAT rises, motor tax increases and septic tank charges.
Businesses, shops and pubs in rural towns and villages are closing. Small indigenous businesses, including small farms, with no real support from the government or credit from the banks, are going under. Our fishing communities are being devastated.
All of this and the absence of equality of access to public services threatens the quality of life of people living in rural Ireland.
Rural communities are the lifeblood of this country but this government's actions are draining rural Ireland – of people and of services.
We in Sinn Féin believe that enough is enough. It is time to start the fightback for rural Ireland.
Sinn Féin believes in rural Ireland.
We believe in rural villages and small towns with schools, post offices and Garda stations.
We believe in the community spirit and way of life that is unique to rural Ireland.
We believe in equal access to health services for rural communities. We believe that sustainable rural economies that can offer employment to young people can be built.
 We believe that the emigration of past generations should not be the future for our children.
Our campaign aims to galvanise the talent and energy that exists in rural communities and turn it into a force to be reckoned with. We must stand together and fight the cuts. But we also need to look beyond that and plan and fight for the very future of rural Ireland.
The 'Love Rural Ireland' campaign has as its priorities:-
A fair deal for rural households – no unjust or punitive charges;
Creating job opportunities in rural Ireland;
Protecting rural schools;
Ensuring equal access to health services;
Combating rural isolation – keeping post offices and Garda stations open, protecting the rural transport scheme and ensuring access to social amenities for rural communities.
We believe in looking at what rural Ireland has to offer rather than looking at how it can be targeted for cuts.
In the last Dáil, Sinn Féin produced three major Oireachtas reports focussing on rural Ireland:-
Awakening the West - Overcoming Social and Economic Inequality
Report on the Future of Farming and Fishing in the West
 Creating Greater Employment in the Agri-food Sector
We intend to continue this work through this campaign. I, along with my colleague Senator Trevor Ó Clochartaigh, are embarking on a fact-finding mission across rural Ireland. We will meet with a broad spectrum of stakeholders, including representatives of the business community, farming and fishing organisations, rural schools, rural transport providers, anti-cuts campaigners, hospital groups, etc. This work will form the basis of a comprehensive plan for the future of rural Ireland.
We need to give rural Ireland back its voice.
The basic right to a decent standard of living, to work, to education and healthcare should apply regardless of where you live. People in Dingle have the same rights as people in Donnybrook. The sooner the Government realise this the better, but it is up to all of us to make them realise it.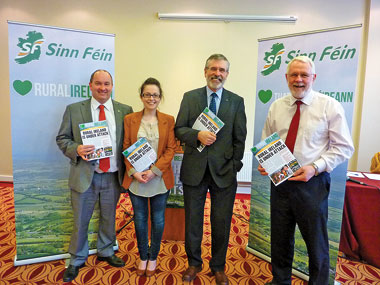 Martin Ferris TD with Gerry Adams TD and Senators Trevor Ó Clochartaigh and Kathryn Reilly at the launch of the 'Love Rural Ireland' campaign