11 August 2005 Edition
Brave Kerry Volunteer remembered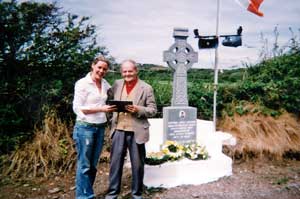 A large crowd turned out in the seaside village of Ballyheigue, County Kerry on Bank Holiday Monday 1 August, to remember a brave local Volunteer, Jack Lawlor, who was executed by Free State forces in 1922.
The march commenced at the Roger Casement Memorial and proceeded to the spot near the old graveyard where Jack Lawlor was brutally murdered. The march was led by republican flag bearers and the Ballyseedy Martyrs RFB.
The commemoration was chaired by the Cathaoirleach of the Jack Lawlor Sinn Féin Cumann, Paul Galloway, who welcomed everyone and emphasised the importance of paying tribute to people such as Jack Lawlor.
Wreaths were laid by Patrick O'Halloran, Risteard Ó Fuaráin and Dan O'Connell. A minute's silence was observed to remember all of those who died in the struggle for Irish freedom. The oration was delivered by the Mayor of Kerry, Toiréasa Ní Fhearaíosa, who paid tribute to the dedication of Jack Lawlor and so many others like him who paid the ultimate price to create an Ireland of justice, equality and freedom. She read an excerpt from writings by Bobby Sands and Jack Lawlor.
Ní Fhearaíosa then made a presentation to a veteran Ballyheigue republican, John Dineen, who has served the the cause of Irish republicanism for over 60 years.
Paul Galloway thanked all those who made the commemoration possible and proceedings were brought to a conclusion with the playing of Amhrán na bhFiann.