11 August 2005 Edition
Unionist feud intensifies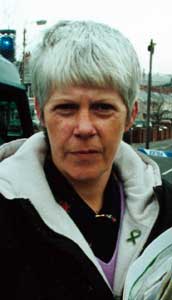 Speculation was rife in Belfast this week that a man shot in the chest on Sunday 7 August is the latest casualty of the ongoing UVF/LVF feud.
Laurence "Duffer" Kincaid, who has a drug conviction and is presently on bail for possessing drugs, was shot in the chest at a house in Glenside Park in North Belfast at 6.30am on Sunday 7 August.
Kincaid was rushed to the Mater Hospital on the Crumlin Road but was later transferred to the Royal Victoria where his condition was described as serious.
An Phoblacht has learned that gangs of masked loyalists gathered at both hospitals and maintained a presence throughout Monday. Staff complained of the intimidatory nature of the loyalist presence and the PSNI were forced to move a number of men from in front of the Mater. It has also been reported that the PSNI recovered a gun from the scene of the shooting.
Kincaid escaped injury during a gun attack at his home in Newtownabbey last month. In November he appeared in court in connection with a £16,000 drug seizure and in 2001 he was released from prison after serving a sentence for drugs possession.
The shooting of Kincaid comes days after Stephen Paul was shot dead and another man injured by the UVF in North Belfast on 30 July and seven hours of serious rioting on the Shankill Road.
The rioting, on Thursday 4 August, was orchestrated by the UVF and came after a series of PSNI raids on UVF members homes in connection with the feud. Up to 40 PSNI officers were reportedly injured in the trouble when unionist gangs went on the rampage in the Crumlin Road and Woodvale areas following the arrests of six men.
A blast bomb was thrown at the PSNI, a bus completely destroyed and ten other vehicles, eight of which were hijacked, were set on fire.
A large number of petrol and paint bombs were thrown during the disturbances with reports that a number of petrol bombs were thrown at nationalist homes in Ardoyne.
North Belfast Sinn Féin Councillor Margaret McClenaghan criticised the PSNI's handling of the trouble. "When you compare the approach of the PSNI to trouble in Ardoyne last month and their handling of loyalist violence the difference is there for all to see. Why didn't the PSNI bring in water cannons like they did against nationalist protestors? It is a softly, softly approach to loyalist violence compared to their attacks on the nationalist community."
Last month the PSNI stood idly by as hundreds of UVF members laid siege to homes in the Garnerville Estate in East Belfast in a bid to drive out families associated with the LVF.
Already three men have been shot dead by the UVF since the power struggle over drugs and racketeering erupted last month.
The last to die was 28-year-old Stephen Paul, shot dead outside his Wheatfield Crescent home in North Belfast home last week, just streets away from where UVF gunmen shot dead 20-year-old Craig McCausland a fortnight earlier.
The first to die, 25-year-old Jameson Lockhart, was killed as he sat at the wheel of his lorry in East Belfast last month.
Meanwhile, with unionism once again in turbulence nationalist lives, homes and property have come under sustained attack from unionist paramilitaries. Across the Six Counties, in Antrim, Derry and Down unionist gangs armed with pipe bombs and petrol bombs have targeted four families including that of a Sinn Féin councillor in Banbridge. Nationalists in Derry City have witnessed a spate of attacks against their homes and property in the Curryneirin area of the Waterside.