11 August 2005 Edition
Crowe briefs Canadians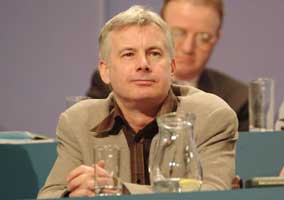 Sinn Féin Dublin Southwest TD Seán Crowe returned this week from a whistle-stop tour of Canadian cities where he briefed Canadian audiences on the latest dramatic developments in the Irish Peace Process. The visit came in the wake of the recent historic IRA statement announcing an end to its armed campaign and was sponsored by Friends of Sinn Féin (Canada).
Crowe visited the cities of Toronto, Montreal and Ottawa where he conducted high-profile television, radio and newspaper interviews and spoke at several well-attended public meetings.
During his visit Seán Crowe met and briefed a number of senior Canadian political representatives. In Toronto the Dublin Southwest TD had a meeting with Bill Graham MP Minister of Defence (Liberal), and also briefed Bryon Wilfert MP Parliamentary Secretary to the Minister of the Environment (Liberal) and Jason Kenny MP, Opposition Deputy House Leader (Conservative).
In Montreal he met Pierre Paquette MP (Bloc Quebecois) while in Ottawa he had discussions with Bob Clark Acting Director General, Department of Foreign Affairs and Ian Shaw, Department of Foreign Affairs
Crowe was able to inform the Canadian Government, politicians, trade unionists, and members of the Irish community about the historic IRA statement. He also thanked people for their support and highlighted the need to mount pressure on the other parties to live up to their responsibilities under the Good Friday Agreement.