28 July 2005 Edition
Aer Lingus dirty tricks - harrassment exposed in state company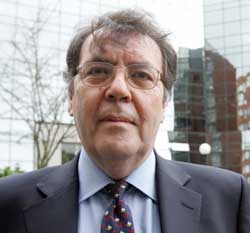 BY
ROBBIE SMYTH
This week last year, Aer Lingus management announced its latest plan to get over 1,300 redundancies at the state-owned airline. A year later a leaked memo has exposed the dirty tricks Aer Lingus management were considering at the time to push the redundancies through.
A Human Resources memo proposed changing worker shift patterns, tapping superintendents to tell them there was no future for them at the airline, reducing overtime, changing the company uniform to yellow jump suits, making pilots do menial tasks and even telling workers they were relocating the head office.
The 12 "push factors" are detailed in the box accompanying the article and yesterday Aer Lingus Chairperson John Sharman told the Oireachtas Transport Committee that the secret memo written in a time of high pressure for the airline's HR department was "never embraced or approved" by senior management. It was a discussion document.
We don't who wrote it or who it was written for, who commissioned it, we don't know the answer to that simple question of why someone felt the need to sit and write a document that had within it proposals that are technically illegal. What was happening in Aer Lingus that someone in the HR department could sit and write proposals that were designed to harass workers?
None of these issues were answered in the transport hearings this week. What is clear is that there was in Aer Lingus at the very least a questionable work culture. Worse still is the fact that the very workers whose efforts and productivity had saved the company were now being undermined in this way.
SIPTU's National Industry Secretary Michael Halpenny told the hearing that the "push factors" had been acted upon. He told the committee the old adage that 'if it looks, talks and acts like a duck, then it is one".
Sinn Féin's transport spokesperson Seán Crowe told An Phoblacht that the leaked memo "shone a light on the reality of how industrial relations are practiced in a state company". It was he said "deplorable that Aer Lingus workers who had done so much to turn the company around were being treated in this way".
It is clear that there is a culture of secrecy and cover up in Aer Lingus. With a new chief executive set to take over in August Aer Lingus needs an industrial relations makeover. It also raises the issue of how the HR departments in Aer Rianta, An Post, the ESB and other state run companies are operated, are there any more push factor memos doing the rounds there?
Aer Lingus 'Push factors'
'Environmental Push Factors' contained in July 2004 Aer Lingus human resources document
1. "Tap on the shoulder" of all relevant superintendents.
2. Management of underperformance — performance improvement plans.
3. Attendance management.
4. Adverse changes in work/shift patterns.
5. Lack of availability of IWSL [in week special leave].
6. Working contracted hours.
7. Change in uniform.
8. Significantly reduced overtime.
9. Assignment to Resource Centre. [pilots were to be transferred to a resource centre to perform menial tasks].
10. No transport.
11. Closure/reduction of bases.
12. Head Office relocation.