28 July 2005 Edition
Major new Sinn Féin book launched in Dublin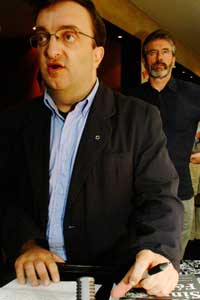 A major new book on 100 years of Sinn Féin was launched in Dublin on Monday 25 July. Around 100 people attended the launch in the Irish Film Institute which was addressed by the book's editor, Dublin republican Micheál Mac Donncha and Sinn Féin President Gerry Adams.
Sinn Féin: A Century of Struggle is the showcase production of the Sinn Féin Céad Bliain commemorations. The book tells the Sinn Féin story in the words of Irish republicans themselves.
The book covers the ten decades of Sinn Féin's existence from its foundation in 1905 and is lavishly illustrated with period photographs and contains primary documents such as the the Foundation Charter, 1916 Proclamation, The Democratic Programme of 1919, other important documents and historical speeches by republicans throughout history.
While not a strictly narrative historical account of Sinn Féin or of republicanism, the book is without doubt an extremely valuable collection of first-hand primary sources on the history of Sinn Féin.
Mícheál Mac Donncha told those in attendance that with this book "History has been reclaimed from the academics as it never solely belonged to them in the first place." He pointed out "the revisionists haven't gone away you know", and referred to the erecting of an offensive monument in West Cork to Francis Drake, a butcher of Irish people, slave-trader and pirate. It was a disgrrace that this man was now officially remembered like he was a "happy member of the Cork Yacht Club sipping gin in his blazer with Eoghan Harris".
Gerry Adams said it was important that republicans tell history from their own perpective and that this book is an important step in doing that. On the same issue both Mac Donncha and Adams stressed the key role of republican newspapers in the struggle and the continuing importance of An Phoblacht. Adams urged people to read, buy and sell An Phoblacht, the only republican paper to have been published every week without fail for the past three deacades.
Following the speeches, both men signed copies of the book.
o Sinn Féin, A Century of Struggle is available book is available at the Sinn Féin bookshop in 44 Parnell Square and sells for €30/£20.