28 July 2005 Edition
Embracing cultural diversity - Féile An Phobail
BY LAURA FRIEL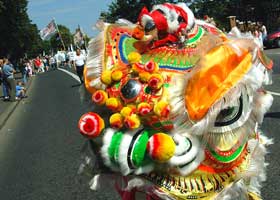 At an Eleventh Night bonfire in North Belfast unionist paramilitaries parade before the crowd. Masked and wearing the customary paramilitary dress, the group brandishes weaponry while marching behind a UVF flag. In the background the flames leap and the dark sky is illuminated orange. There is debris on the ground and smoke in the air.
On the eve of the 12th, the ritualised burning of Catholic, Irish or nationalist effigies accompanied by an armed show of strength at a traditional Orange bonfire is rigorously defended as an expression of Protestant and unionist culture and heritage.
This symbolic expression of antagonism is unpleasant enough but worse still it is accompanied by increasing violence and hostility against the northern nationalist community throughout the Orange marching season that now stretches from Easter until the end of August.
This year has witnessed bomb attacks on nationalist homes and a serious arson attack that could have resulted in fatalities. Catholic churches have been attacked and in Harryville Mass-goers were prevented from attending services.
In recent years the heightened tension that accompanies the Orange marching season has not only generated sectarian attacks against the nationalist community, it has also precipitated internecine violence between rival unionist paramilitary groups.
This week we have seen gangs of hooded UVF paramilitaries take to the streets in east Belfast to ensure that families with connections to the LVF who fled the area are unable to return to their homes. Since the 12th unionist paramilitary feuding has left two dead and one seriously injured.
All this stands in stark contrast to the creative way in which Belfast's nationalists have chosen to give cultural expression to their humanity and vision. Féile an Phobail emerged out of dark days for northern nationalists in general and the people of West Belfast in particular. The spring of 1988 had been particularly tough.
As an apex of struggle against British occupation, West Belfast had been demonised for many years but the tragic events that followed the SAS killing of three unarmed IRA Volunteers in Gibraltar in March 1988 brought it to fever pitch. As a response to the damaging and negative portrayal of the community, Sinn Féin President Gerry Adams in his capacity as West Belfast's MP together with local community groups decided to organise a festival.
Its origins were humble but the vision and talent of local people have ensured that the West Belfast Festival has developed into a vibrant international event that involves tens of thousands of participants and visitors every year. The opening carnival parade routinely attracts over 50,000 people and, as anyone who has ever tried to get tickets at the last minute will testify, the week of activities are equally well attended.
As a positive counter-culture to the hardship and tragedies endured by this community for decades, fun and entertainment are high on the list of the festival's objectives. Music, as diverse as Irish traditional to Afro-Cuban, from the Celtic Tenors to the Beat and the Gangsters, provides the backdrop to the kind of inclusive atmosphere which imbues the festival as a whole. There's lectures for the serious-minded and a comedy night for those who are just looking for a good laugh.
But this isn't pacification. History and politics are neither abandoned nor forgotten but rather celebrated and explored in an atmosphere of progressive engagement. Discussion and debates have included lectures by leading international academics, journalists and documentary makers, including British middle eastern correspondent Robert Fisk, American satirist Michael Moore and political theorist Noam Chomsky. They have also featured meaningful engagement between leading nationalist, republican and unionist politicians.
"We have come a long way since 1988 when Féile was established from humble roots with a desire to showcase inclusiveness, reconciliation and peace whilst at the same time facilitating the community in celebrating its history and its cultural identity," says Seán Paul O Hare, Director of Féile an Phobail.
"It is in all our interests that the political stalemate in the North ends. There is still great deprivation and inequality within our society and additionally, the blight of racism. There is also the struggle across the world for justice and equality and against oppression and exploitation. Not surprisingly then, these concerns are reflected in the festival.
"So come and sample our international night of music, international food fare and join us as we 'race against racism'' and debate all the current issues at West Belfast Talks Back. But above all, enjoy yourself," says Seán.
Meanwhile Derry Féile is to host young Palestinian actors from the Yafa Cultural Centre in Nablus on the West Bank. Children from the Balata refugee camp will perform A'edoon (We will return) which retells the story of Nakba, the Disaster, when in 1948 750,000 Palestinians were forced to flee by Israelis from their home never to return. This is the first time that the play will be performed outside the occupied territories by young people who have never experienced life beyond a refugee camp.
After years of conflict in which local communities were forced to rely solely on their own resources and abilities, the way in which West Belfast chose to celebrate could have so easily have collapsed into parochialism. It didn't, opting instead to embrace diversity and change.
And underpinning that determination was the traditional republican vision of uniting Catholic, Protestant and Dissenter and its inclusive ethos of Liberty, Equality and Fraternity. Once a year West Belfast play host to the world community, celebrating aspects of its music, art, history and knowledge and through this mechanism the local community embraces its own sense of itself.
Unionists have repeatedly accused Irish republicans of wishing to impose a mono-culture. It's a curious allegation given the exclusive nature of the Orange Order and its rigorous anti-Catholic rules and regulations. Orangemen might regard it as their right to parade through nationalist areas but it's not in the spirit of engagement with but domination of the local community.
The Orange Order hasn't simply emerged as a de facto exclusively Protestant organisation. It was specifically organised and has been specifically maintained as an expression of racial and religious supremacism. It's ethos is inward looking and anachronistic. It's about rooting out dissidents rather than embracing change and diversity.
Curiously the Eleventh Night bonfire in which those images of unionist paramilitary display were captured in North Belfast was one of a number of bonfires to attract state funding while the future of two festivals in nationalist North Belfast hang in the balance.
The New Lodge Festival and Ardoyne Fleadh Cheoil have been running for over a decade and despite numerous attempts to secure proper funding the financing remains precarious.
"We were promised three years ago that festival funding would be sorted out and that committees would have a proper avenue in accessing funding. This has yet to happen", said Irene Sherry, New Lodge Festival coordinator.
Delays by the funding decision-making bodies, have left this year's festivals in North Belfast in crisis. "In two weeks time the festivals begin and there is no sign of money", says Irene.
Kevin McVeagh of the Ardoyne festival committee said the British Government and its departments were making procedures harder than necessary. "They are moving the goalposts every year and then wait until that last moment to make a decision."
An Phoblacht Magazine
AN PHOBLACHT MAGAZINE:
Don't miss your chance to get the second edition of the 2019 magazine, published to coincide with Easter Week
This special edition which focuses on Irish Unity, features articles by Pearse Doherty, Dr Thomas Paul and Martina Anderson.
Pearse sets out the argument for an United Ireland Economy whilst Pat Sheehan makes the case for a universally free all-island health service.
Other articles include, 'Ceist teanga in Éirinn Aontaithe', 'Getting to a new Ireland' and 'Ireland 1918-22: The people's revolution'.