14 July 2005 Edition
Planning for success in 26 Counties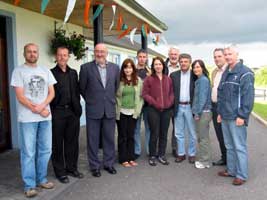 Sinn Féin's Leinster House team last week engaged in a detailed strategic planning meeting in County Monaghan. The attendance included the party's Dáil Leader, Caoimhghín Ó Caoláin, Leinster House Whip Aengus Ó Snodaigh TD, and TDs Martin Ferris, Arthur Morgan Seán Crowe and their support staff.
The first ever two-day away meeting on Wednesday 6 and Thursday 7 July, involved a detailed evaluation of the past year in Leinster House. However, the team spent the greater part of their two-day deliberations in strategic planning for the period ahead, and the run up to the next 26-County General Election.
Caoimhghín O Caoláin acknowledged the difficult period of the early months of this year but stated that republicans would secure a significant improvement in their Dáil representation at the next General Election. "A doubling of our seats from five to ten is now certainly achieveable.
"Sinn Féin is the only radical alternative to the current political status quo. We intend to continue to provide real opposition to this PD-led coalition and not just offer a variation of the same as expounded by Fine Gael and Labour".
Ó Caoláin said that other parties had strategies associated with places where they had met, such as Tallaght, Mullingar and Inchydoney. "When our ten T.D.'s make their way through the gates of Leinster House, post the next General Election, pundits can speculate on the importance of the 'Knockatallon Strategy' in that achievement".
The Leinster House team were warmly received by upwards of 300 local republicans in the Sliabh Beagh Tourism Centre in Knockatallon on the Wednesday of their arrival. Led by Sinn Féin Dáil Leader and Cavan/Monaghan TD Caoimhghín Ó Caoláin, the Group were treated to a traditional North Monaghan welcome, with presentations to all the TDs and their Parliamentary Assistants. Music was provided by ballad group, Seanachie.
Earlier on Wednesday evening the group laid wreaths at the Memorials to IRA Volunteer Seamus McElwain at Knockatallon, to those remembered on the plaque at Coragunt Bridge and at the site of the death in 1973 of Cork Volunteer Tony Ahern.