14 July 2005 Edition
Protests to Release Rossport 5 Grow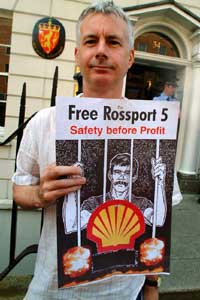 Protests grow
Hundreds of people from all different political partyies and from none all over the 32 counties have protested against the jailing of five Rossport people over the past few days.
There were huge protests in Belmullet last Saturday, when local people came in their hundreds to support the principled stand of the Mayo people who are in prison. Many people went to the Galway Mayo football final to gather signatures to the petition for the demands of the Shell to Sea Campaign, and to hand out leaflets.
As requested by the campaign, people from all parts of Ireland, came to support the Rossport people in their protest at the Bellinaboy site. Many young people are staying in the area, not deterred in the least by reports of large numbers of Gardai being deployed in the area.
There were protests in Belfast, Kerry, Cork, Waterford, Galway, Leitrim, Laois, Kilkenny, Kildare and Westmeath. In Dublin, in an impressive day of action, Sinn Fein organised pickets all across the city at Shell and Statoil stations, in support of the Shell To Sea Campaign.. In Cork activists blockaded the Shell Central Oil Depot, and lorries refused to pass the picket.
People in the city held a demonstration, called by Shell to Sea, last Thursday, and they came to court on Monday to support the prisoners. Yesterday (July 13th), supporters protested outside the Norwegian Embassy at their government's involvement, through the state owned company Statoil.
As one protestor commented at the protest, "Statoil appears to have two different standards by which it operates. It is hard for us to understand how Norway, which has an excellent reputation for fair and good governance, and the observance of environmental good practices, could at the same time, when it comes to a small, vulnerable and isolated community in the West of Ireland, work to take advantage, and collude with Shell in trampling on the rights of local people and their community, in the destruction of one of the most beautiful, and unique habitats of our island, for the economic gain of the Norwegian state."
Leitrim protests
A group of people came out in Carrick-on-Shannon on Friday last to support the Rossport 5. The protest came on the back of a motion in support of the Mayo farmers passed unanimously by Leitrim County Council the previous Monday.
The motion tabled by Sinn Féin Councillor Martin Kenny pledged the support of the Council for the five men in prison and called on Minister Noel Dempsey TD to intervene, take responsibility to resolve the dispute and re-examine the whole project, it was agreed a letter would be sent to Minister Dempsey to that effect.