30 June 2005 Edition
Listening device found in republican's home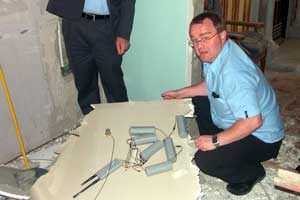 An electronic listening device was discovered in the loft of a well-known republican activist's home on Wednesday morning by an electrician making repairs.
Workmen carrying out renovations to the home of Derry republican Andrew McCartney discovered an electronic device, which measured around two-and-a-half inches in diameter, planted in the kitchen ceiling cavity.
It is impossible to determine how long this sophisticated device was in place, but Foyle MLA Raymond McCartney, Andrew's brother, says it has to be assumed that it was placed there with the authorisation of either British Secretary of State Peter Hain or his predecessors.
"This is just the latest evidence that the PSNI, Special Branch and British Military Intelligence have no intention of entering a new mode," said the MLA.
"This is totally unacceptable and only serves to highlight the fact that while the British Government is demanding acts of confidence from others, it is intent of carrying on with its criminal activities against republicans.
"I intend to have this matter raised with both governments by my party leader Gerry Adams to demand an explanation for and an end to these attacks on the rights of republicans to live free from this type of unwarranted invasion of their family privacy and harassment."
McCartney strongly advised republican activists to have their homes searched for such devices.