9 June 2005 Edition
Funchion for Carlow/Kilkenny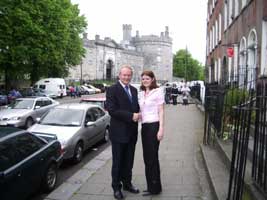 Sinn Féin in Carlow/Kilkenny launched their candidate for the next General Election at a packed convention in the Clubhouse Hotel, Kilkenny on Saturday last.
Twenty-four-year-old Kathleen Funchion from Callan, who is based in Kilkenny City, was the unanimous choice. Kathleen is the Leinster Cúige's Equality Officer as well as Secretary of the local Comhairle Ceantair.
Guest speaker Martin McGuinness congratulated the gathering on their selection of this "young, intelligent republican activist", describing it as a "visionary choice". He spoke of the great sense of optimism and confidence of a party on the move. Things are really looking up," he said, adding that the Peace Process had liberated republicanism, with many people now coming forward. He concluded by outlining in detail the reasons for the ongoing attacks on the party.
Kathleen, a sociology graduate, gave an address on the theme of equality, highlighting local issues that need to be radically addressed following on from community surveys which her team of local activists have been carrying out recently.