9 June 2005 Edition
Education crisis deepens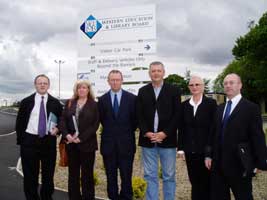 "Sinn Féin is aware that there is unprecedented alarm across civic society at the deepening crisis within the Education system and this is the message we will carry into our Ministerial meetings."
So said the party's spokesperson for Education, Michael Ferguson, as he led a delegation to meet with Barry Mulholland Chief Executive of the Western Education & Library Board, at its headquarters in Omagh at the weekend to discuss the funding crisis in education caused by British Government cutbacks.
Also attending the meeting were MLAs Tomas O'Reilly and Barry McElduff as well as Councillors Paul Fleming and Maeve McLaughlin (Derry City Council) and Claire McGill (Strabane District Council).
Within the public education system, the Board has statutory responsibility for primary and secondary education within its area. The Board must also have regard for the need for pre-school education and is responsible for the provision of a youth service and library services to schools and the public.
"We had a very thorough discussion on the government's plan to reduce the budget to mainstream educational provision over the next three years and the requirement to claw back spend," said Ferguson afterwards.
"It is clear that the long term impact of cuts across the five Board areas will be to reduce dramatically the standard of education for our children and that those children most affected will be those children with special needs that the government have not allocated investment to.
"Staff are now disappearing on a weekly basis, patrol crossing personnel, caretakers and secretaries, canteen workers and at least 18 teachers. The Education system is in a state of shock and disbelief. Education, the cornerstone of civil society, is being eroded before our eyes and we must fight back."